Rachael Lampa: Growing Pains
Michael Tenbrink, CCM Magazine
Tuesday, October 19, 2004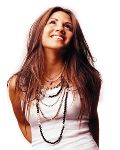 It was on Rachael's mind so much, in fact, that she began talking about this from stage as it was unfolding in Louisville. "God just puts different things on my heart so strongly that I just kind of have to go with it. There are times I've built almost an entire concert around it. I've had tons of kids come up to me and tell me either that they were in that situation or that their friends were in that situation. It was scary at first."
But the most significant struggle in the past year has been the divorce of her parents. Rachael admits she is "still not sure" how to talk about it and several times cites deep concerns about saying something that might cause hurt to her family. Yet, she also admits that the situation presents her with an opportunity.
"When all of it started happening, my mom told me that God would never waste my pain. That stuck with me for so long. [It also became a song; see "The Art" on her new record.] I think about how this is my chance to not put it to waste, to talk about it. I'm still kind of wondering how much to let go, but I would say that it is affecting me in every way; it's all I think about. It's not like I went through it and then wrote about it on the record, and now everything is all better. It's very therapeutic to write about it, but it's definitely still very sensitive. I think God put me in this situation and kept me this sensitive for a reason. It's definitely something that I'm not alone in."
She hesitates, choosing her words carefully. "I think one of the biggest problems with how people deal with things is that they hide it away and just try to ignore it, and I totally did that; and it just tore me apart. I went to counseling and just tried to figure out how to deal with it without being a big emotional mess, without holding everything back but, at the same time, without having outbursts all the time. But I just prayed that God would take full control over it and that He would take things off of my shoulders. And, as simple as that sounds, it worked. I am such an advocate for prayer; it works."
She pauses and then continues quietly. "As far as how the divorce affected my music, I think almost every song on the record was affected by it. Sometimes it just hit so close to home, that I would think, "I can't believe I'm even doing this." But I did my part, as far as being honest and real about it. I'm not 100 percent OK with my feelings yet; I'm still just a 19-year-old mess," she says with a wry grin. "I don't have any answers for it, any explanations for it. I just know that if you call on Him, if you trust in Him, He'll take it where He needs to take it. And I'm just trying to follow along right now."
Sensing that it's time to change the subject, I ask Rachael if she ever regrets starting her career so young. She answers quickly. "I don't regret it; but, for a majority of people, I don't recommend it [laughs]. It took me a good year or so after the first record and after doing some shows to realize that this is not about me! And so I had to figure out what it was about. I started to talk to people [that I thought could help me]. Rebecca [St. James] was a big help to me, just encouraging me to always be real, to not ever act like I had everything figured out but just to communicate honestly. I could have gotten lost so easily, but I didn't. If you surround yourself with the right people, and they are truly looking out for what is best for you, which may not always be what you want, then I think you can do it."
For Rachael, part of surrounding herself with the right people involved moving to Nashville. She says, "I moved here right after I graduated from high school last year, and it was just a good time in my life to go. I'm having a blast; I have great friends here. One of the deciding factors [about moving here] was I had friends that would pray for me. I never had that in Colorado; I just didn't really have Christian friends. I had a few people I would hang out with occasionally from youth group; but, in my immediate circle of friends, there weren't really Christians. I just really felt like I would be able to grow here, and [in Colorado] I just kind of felt like I was stuck. I definitely miss my family like crazy; but I get to see them once in a while. And when I travel, sometimes I get to make stop-offs in Colorado."
Have something to say about this article? Leave your comment via Facebook below!
advertise with us
Example: "Gen 1:1" "John 3" "Moses" "trust"
Advanced Search
Listen to Your Favorite Pastors