Rachael Lampa: Growing Pains
Michael Tenbrink, CCM Magazine
Tuesday, October 19, 2004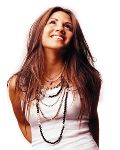 Rachael says she has been amazed at her mom's ability to let her go and says she's been her biggest inspiration. "She's such a strong person. Her answer for everything is prayer. She so just wants me to learn and grow and experience things. And while she's making sure I'm not staying out too late and I'm taking my vitamins, she is so good at letting me find God in my own ways and find people around me who will encourage that."
Introducing … Rachael Lampa

For her third, full-length studio release, Rachael Lampa certainly brought in a big gun to head up production — the one and only Tommy Sims (CeCe Winans, Bruce Springsteen). According to Lampa and her management during a recent visit to the CCM offices, Sims was only scheduled to produce a limited number of tracks on the self-titled album. However, once he started working, he asked to produce the whole thing. Needless to say, he didn't have to ask twice.

As to the musical direction of the new album, Lampa says, "It's kind of a funk/pop/rock thing. Some of it is real straight-up funk, some a little 'R&B-ish,' some rock. There's one that's a little 'ska-ish.' It's a mixture of a lot of things." Lampa credits her growth to Brent Bourgeois, her first (former) A&R rep. "I don't know if he even knows," she reveals, "but he showed me a whole new way of looking at music." A nod for this growth also goes to Sims and her second (former) A&R rep, Chris "Rodge" Rodriguez, who she says "challenged" and "humbled" her.

And while Lampa clearly relishes the musical growth, it's the lyrical themes that she is most passionate about. And, for the first time, she wrote or co-wrote every song on the album. "It's a collection of what I've learned in the past year about life and how my faith has affected it and how God has come into play with it.

"Certain songs are about victories that I've had, things that are worth celebrating; and some are about questions I still have, struggles I have. I think it's important for me to communicate that it is just a snapshot of my life. It's not the end; it's not my final answer on everything. It's just where I'm at right now. Ultimately, God has woven His way through every song and every situation that these songs come from; and I wanted that to show, and I feel like it does."

So what about her future? Does Lampa still intend to get a mainstream record deal and "cross over" to pop music as she had considered years ago? She responds, "Right now, all I want to do is make a record that I believe in, lyrically and musically; and that truly reflects me and my faith and where God is working. We made this record for the Christian market, if that's what you want to say; but I feel like, when we say those things, we only limit ourselves. It's not like I want to go be a pop star, but I would love to just put no limits on it. I just want it to speak to people the way that God speaks to me."
— M.T.
© 2004 CCM Magazine.  All rights reserved.  Used with permission.  Click here to subscribe.
Have something to say about this article? Leave your comment via Facebook below!
advertise with us
Example: "Gen 1:1" "John 3" "Moses" "trust"
Advanced Search
Listen to Your Favorite Pastors