Real People. Real Worship.
Steven Douglas Losey, Contributing Writer
Tuesday, September 24, 2002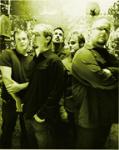 In a torrential downpour with only 17 ticks left on the clock, it was fourth down and 16 on the Greenville Lions' own 36-yard line.  The Lions were down to their last play—a final gasp to turn the tide on their bitter rivals, the Highland Park Scotties.
As the Greenville quarterback barked out a melody of signals, career lineman Bart Millard, son of Southern Methodist University All-American player Arthur Millard, lined up as a tight end on the play.
The ball was snapped, and the wide receivers split to the left, streaking down the field as Millard trotted to the 50-yard line.  Just two yards shy of the first-down marker, he reached to snag the incoming pass as the ball fluttered through the wet Texas sky.
A split second later, two Scottie linebackers sandwiched Bart's legs with a jarring hit from each side of the field.  The crushing tackle caused Millard's ankles to buckle, crushing bones and tendons and ending his football career.
That moment changed the course of Bart Millard's life and eventually led to the birth of a band that is giving this generation a new way to imagine the presence of Christ.
Worship Is More Than You Can Imagine
There is no doubt you've heard MercyMe and its infectious tune nearly a thousand times on Christian radio.  MercyMe never wanted to be pigeonholed as a radio-friendly pop band.  But when "I Can Only Imagine" spent weeks at No. 1 on the charts, garnering a Dove Award for the "Song of the Year" and earning "Songwriter of the Year" honors for Millard, it triggered an unexpected transformation that was hard for the band to swallow.
"Before 'I Can Only Imagine,' we considered ourselves a rock band," says Millard.  "When the song broke, suddenly we had middle-aged mothers coming to the shows."
It's obvious that "Imagine" is the song that has given MercyMe its identity and its recognition, spawning a previously inconceivable fan base.  But as happy as they are about the song, Millard and company do not seem comfortable talking about success.  This Texas-bred band wants to take the focus off itself and place it on the "God of the Universe."
 "All I can say is who we are," states Millard.  "We're just trying to do our best to have our ministry bear fruit, to be obedient to Christ.  We'll do whatever is necessary to usher people to the throne in worship."
Long before "I Can Only Imagine" hit the airwaves, MercyMe released six independent records that gave testimony to the potent rock blend of praise & worship music that Millard hopes will "shake the rust off the soul."  The band, made up of Millard, keyboardist Jim Bryson and guitarist Mike Scheuczer, and later additions bassist Nathan Cochran and drummer Robby Shaffer, was ahead of today's worship trends in playing praise music before it became a fashionable marketing ploy.
"Christ says the day is coming when we will worship in spirit and truth," Millard proclaims.  "I think my concern is there is a big movement of worship music right now.  My fear is that it could be creating very shallow Christians, people who worship the act of worship more than they do Christ."
"Praise & worship is more than a musical style for our band.  It's a lifestyle," interjects Scheuczer. "It's a lifestyle lived to glorify God.  I don't think it's just music.  I think the music side is just a means to get closer to God.  [Worship] is what we're created to do."
The band knows that leading worship is a calling, and it takes that calling very seriously.  "It's totally about building the kingdom of Jesus Christ," Millard says.  "For me as a worship leader, when someone comes up and says, 'You guys did a great job,' I can take that and just say thanks."
Have something to say about this article? Leave your comment via Facebook below!
advertise with us
Example: "Gen 1:1" "John 3" "Moses" "trust"
Advanced Search
Listen to Your Favorite Pastors