Real People. Real Worship.
Steven Douglas Losey, Contributing Writer
Tuesday, September 24, 2002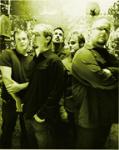 But some parts of performing are harder for Millard to take.  "When you're on stage and the crowd starts going crazy," he reflects, "it's almost a little frightening.  It's scary just from the sense that we've worked up to the point that we've done everything we could to call upon the name of the Lord—to have His presence there and literally to be on holy ground, in the midst of a Living God."
Millard pauses, choosing his words.  "When all of the praise starts going all over the place, you get really nervous about it being in the right direction.  After a while you start to wonder:  Are they worshiping the Father? What exactly is going on?"
How does a band like MercyMe, already uneasy with success, respond to the admiration of over 500,000 fans?  Millard considers the difficulty.  "We try to be as humble as possible," he says, "as grateful as possible.  A lot of people have come up and said, "You guys seem real, and you do everything you can to point to the right direction.'  For us, that's just a safer place to be than trying to carry it on our own shoulders.  Pass it on to Him; He's the only thing worthy of that praise."
Evangelizing in a Way Worth Imagining
One of the most difficult challenges for a praise & worship band, perhaps even harder than balancing ministry and success, is the call to evangelism.  One of the most common criticisms of the Christian music industry is that it only reaches the Christian community, and this assessment rings true even more for praise & worship music.  After all, worship is intended for those who already know Christ.
Is it possible for a committed group of Christian musicians playing praise & worship to be relevant to the outside world?  Can MercyMe ever affect the MTV generation?  "We obviously cater to the 'Christian bubble' because we're praise & worship leaders," says Millard.  "We are very evangelistic.  But if MercyMe had a mission statement, it would be to lead people to Christ through worship."
The other members of MercyMe agree wholeheartedly.  "Every aspect of our lives should involve worship," concurs Cochran.  "It means giving every part of ourselves to glorifying God.  But just because we play in a bubble doesn't mean we have to live there."
Shaffer expounds, "I grew up in the Christian subculture.  But the people I surrounded myself with helped me to understand that just because you listen to secular radio or like a secular band, that doesn't make you a sinner.  We all struggle with the same things."
However, Millard doesn't believe that worship excludes evangelism.  "I've heard people tell me that 'There's not really a place for non-Christians in worship,'" he says.  "But I don't necessarily agree with that.  Paul and Silas worshiped in prison, and the guard came forward to say, 'What do I do to be saved?'  Worship has a tendency to rub off."
When MercyMe leads worship for a group of Christians, Millard believes its message has the power to go far beyond the church.  "I don't think there's any greater form of preaching than praise & worship," he insists.  "Preaching is whenever people can watch the body lift up the name of Christ.  Yes, we do play for the [Christian] bubble, but wherever there are people who have a desire to be closer to Christ, we want to be there."
But what does it mean to draw closer to Christ?  Jesus spent His years talking to the sinners, the lepers and the outcasts.  He had an incomparable ability to meet people in their spiritual comfort zones.  From speaking to the woman at the well to jousting verbally with the Sadducees and Pharisees, Christ could connect with every kind of person.
Have something to say about this article? Leave your comment via Facebook below!
advertise with us
Example: "Gen 1:1" "John 3" "Moses" "trust"
Advanced Search
Listen to Your Favorite Pastors