Relient K: Something So Right
John J. Thompson, CCM Magazine
Tuesday, May 15, 2007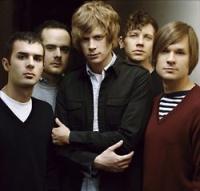 When it comes to talk of Christian artists breaking through the real and perceived barriers that supposedly exist between followers of Jesus and the mainstream marketplace of music and ideas, people will now always mention Relient K.
Is Relient K ready for this next step? The band's three Gold albums, (The Anatomy of the Tongue in Cheek, Two Lefts Don't Make A Right . . . But Three Do, MMHMM), two Gold singles ("Who I Am Hates Who I've Been," "Be My Escape"), hit videos and rave reviews in the mainstream press have assured it a place in the stratospheric heights of the underground (which translates into "almost famous" in mainstream culture). Despite Relient K's homegrown aesthetics and self-deprecating wit, the band is just about as big as any faith-fueled artist out there today.
With great success, however, come great expectations, and this spring all eyes have been on Relient K as it released the fifth full-length album in its busy seven year history. A super-star producer, one of the biggest record companies in the world and a lot more experience has caused anticipation to rise considerably. But when CCM hung out with vocalist/pianist/guitarist Matt Thiessen, lead guitarist Matt Hoopes and new bassist John Warne on their bus just earlier this year, one thing was perfectly clear: these guys weren't worried at all.
"You can kinda smell it," Thiessen says about when Relient K knew it was time to start working on a new record. Though certainly typical for most bands, the two years between the release of MMHMM and the new record is a veritable eternity for a group that has released five albums and three EPs during its fairly short career. Hoopes attributes the vast 24-month LP silence (They did release an EP during that time.) to the fact that the band joined the Capitol roster after the last record was completed. "We got signed to Capitol right as MMHMM was coming out," he explains, "so it took awhile for them to do videos and to push us to radio." In addition to Relient K's standard headlining club and theater tours, the band joined the "Warped Tour" and hit the road with mainstream bands such as Good Charlotte and Simple Plan.
The Complex Infrastructure Known as Relient K
When all the activity subsided, Relient K started writing for the next project. But personnel and geographical changes tweaked the process right out of the gate. During the recording of MMHMM, long-time bassist Brian Pittman decided it was time to do other things. He joined the eclectic post hardcore/metal band Inhale Exhale. "We still hang out," Thiessen assures. "We're still good buddies—it was just that he wanted to do something else." The band replaced Pittman with John Warne, the charismatic front man for indie faves Ace Troubleshooter. "He'd never played bass in a band before, so that was kind of adventurous," Thiessen admits. But the changes didn't stop there. Shortly thereafter, Relient K decided to add an extra guitarist/multi-instrumentalist to the line-up. Jonathan Schneck, former touring guitarist for Audio Adrenaline, brought a wide variety of talents including guitar, banjo, bells and vocals to the mix in time to record the late 2005 Apathetic EP.
Now as a five-piece band for the first time, everything from songwriting to live shows has changed. "I wanted to be free to play more piano during the show," Thiessen explains of the reason they added Schneck. "It also changes the way you write when you know you can have two guitar parts going and play piano and sing." The result was apparent on the band's last several tours as Thiessen brought a piano on stage and showed off his chops on the ivories. But once they hit the studio, the added nuance and ambience became all the more apparent. Though still true to their roots, the instrumental depth has been compounded with the addition of Schneck and the re-purposing of Thiessen, as well as the involvement of legendary modern rock producer Howard Benson (Hoobastank, Motorhead, My Chemical Romance).

The producer change came after a career-long exclusive relationship with fellow Ohio-native Mark Townsend. "It wasn't like we were saying Mark wasn't good enough anymore or anything like that," Thiessen explains. "We just wanted to use someone else so we weren't using the same person for our whole career." The band members were fans of Benson's work on several projects, including The All American Rejects' Move Along record and the noticeable growth he spurred out of Less Than Jake on its Hello Rockview LP. "I was really excited to work with him," Thiessen says. "Everybody that has heard the record so far has said that, sonically, it's a step in the right direction. The guitars sound better; the drums sound better; the vocals sound better. The fact that we spent a lot less time making it, and it sounds better, is cool. And I think that Howard brought all that to the table."
Have something to say about this article? Leave your comment via Facebook below!
advertise with us
Example: "Gen 1:1" "John 3" "Moses" "trust"
Advanced Search
Listen to Your Favorite Pastors