"Risk" - Music Review
Anthony DeBarros

Music Reviewer

2003

15 Oct

COMMENTS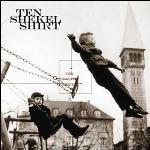 Artist:   Ten Shekel Shirt
Label:  INO Records

Some time in the last two years, Ten Shekel Shirt morphed from an above-average worship band to an artsy rock outfit more akin to Coldplay or Counting Crows. Yes, bandleader Lamont Hiebert still sings about his relationship with God, but he offers fewer of the vertical praises that filled the band's debut, "Much." Instead, "Risk" goes deeper into day-to-day life, faith and the emotional connection between them.

Nowhere is this shift more evident than on "February," where Hiebert expresses a need to honor his late mother and brother. So what if its haunting melody recalls a half-dozen British rock outfits; the emotion rides so close to the surface, there's no doubting the pain still lingers.

The melancholy doesn't dominate, though. Another shift—from acoustic to electric guitar — fuels bouncy rockers like "This Story", "Safest Place" and the title track. "Risk" might be just that, but it pays off with a big leap forward in creativity.

Copyright © 2003 CCM Magazine.  Used by permission.  All rights reserved.  Click here to subscribe.