Rush of Fools: Do the Right Thing
Deborah Evans Price, CCM Magazine
Wednesday, March 19, 2008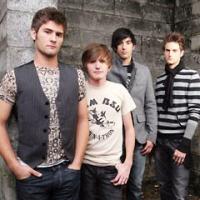 When obedience intersects with anointing, the result is generally pretty life-changing. Just ask the guys in Rush of Fools. Since answering the call to music ministry, the members of the Alabama-based band have seen their lives drastically change as they quickly went from aspiring musicians to one of Christian music's hottest new groups with the hit single "Undo."
"We're blown away," says guitarist/vocalist Kevin Huguley. "We've gotten so many emails from people about how the music has impacted their lives. We're just five guys who really like music and God has just continued to open doors for us. We've been absolutely blessed."
Lead vocalist Wes Willis agrees. "After the year we've had, we constantly wake up in awe," he says. "We're just five guys from Alabama. I just have a lot of questions for God when I get up there one day like 'Why did you let all of this work?'"
This spring the band members are excited about touring with the Newsboys on the "Go" tour. They have also partnered with GodTube.com and will be active on the website. They have also become involved in the "Freedom Begins Here" campaign. "It's an organization that is out to create awareness of sexual addiction and pornography," explains Huguley. "We want to be advocates and start getting people help in any way we can."
Rush of Fools takes its name from 1 Corinthians 1:26-31 where the apostle Paul wrote to the church in Corinth is an effort to humble them. Paul tells the church to remember that there was nothing special about them before Christ," says Huguley. "None of them were smart. None of them were from rich, wealthy families. None of them were leaders. However, Paul explains to them that God is what made the difference in their lives."
Huguley always knew he'd be involved in ministry, but this music career caught him by surprise. He had originally wanted to go to seminary, but things didn't work out. Instead, he has opted to bloom where God has planted—and the result of that obedience has helped propel the band into the spotlight and give them a platform to do many things.
Huguley founded the band and enlisted Willis as the group's lead vocalist. Bassist Jacob Chesnut, drummer Jamie Sharpe, and J.D. round out the quintet. "Being a church planter, I've read all sorts of books on church planting and studied it," Huguley says. "Then God led me into the music industry. I've had to learn how to balance ministry and business decisions and learning how to understand that at the end of the day, ministry is what matters."
The group played its very first show in October 2005; not long after, they heard about a talent competition called Band With a Mission and entered not even expecting to win, just looking for some feedback from the judges. They had only been performing together for about five or six months when they traveled to Nashville to compete in Band With a Mission.
Much to their collective surprise, they won. "We just worshipped and played songs like we always do," says Huguley. "We just try to share our hearts. We're in this for God's glory."
The group began fielding offers from record labels, and signed with Midas Records, a Nashville-based company that also has a country division that has enjoyed chart-topping success with the group Emerson Drive. Even before the full album was released, the single, "Undo," began climbing the charts. By the time the Christian music industry convened in April 2007 for the annual Gospel Music Week festivities, the song had gone to No. 1.
Have something to say about this article? Leave your comment via Facebook below!
advertise with us
Example: "Gen 1:1" "John 3" "Moses" "trust"
Advanced Search
Listen to Your Favorite Pastors