Saint or Sellout?
Michael TenBrink, Contributing Writer
Wednesday, September 24, 2003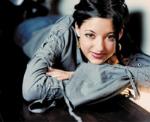 Sitting in a restaurant in a non-descript behemoth suburban mall, Stacie Orrico is proving herself to be a remarkably patient pop star. We're enduring poor service of the worst magnitude: messed up orders, lengthy delays and a waitress who is seldom seen or heard from. Yet Stacie remains polite, friendly and engaging in spite of the ordeal. Having just met her a few minutes before, I'm not sure if it is because she is genuinely nice or just feeling the huge public responsibility that rests on her shoulders as Christian music's biggest "crossover" success story of 2003.

Into the Great Wide Open

Of course, Stacie is no stranger to success; it's been well documented by now how her debut album, "Genuine" (ForeFront), broke sales records when it released three years ago, going on to sell over a half-million copies, thanks in part to tours with Plus One and Destiny's Child. Still, Stacie's life has taken a whole new turn since "Stuck," the first single from "Stacie Orrico" (ForeFront/Virgin), hit pop radio in February. Unless you've been living as a pop culture recluse, you've probably seen and heard an awful lot of Stacie lately.

The new album was released in late March under a joint venture between ForeFront Records (her longtime Christian label) and mainstream powerhouse Virgin Records. Stacie Orrico spent three weeks at No. 1 on Billboard's Top Current Contemporary Christian Albums chart and has scanned well over 170,000 units at press time. "Stuck" spent months blanketing airwaves nationwide, eventually cracking the Top 10 on mainstream CHR/Pop charts, and its accompanying video became a mainstay on MTV's "Total Request Live."

But today, Stacie seems unfazed by all the fuss. Sipping her drink, she mentions she graduated from high school this year after working hard on her online correspondence program. (She has not attended a "normal" school since seventh grade, after she was signed by ForeFront at the age of 12.) She mentions wanting to continue on to college "someday," but for now, college will have to wait, considering her jam-packed schedule. She's been doing interviews, photo shoots and retailer showcases by the dozens. She even recently turned up on MTV, interviewing the day's "mystery guest," superstar comedian Chris Rock. ("Everybody at MTV is surprisingly very sweet, very accommodating. We were all treated very well there. [MTV] actually called ForeFront and my parents to make sure Chris was an OK person for me to interview," she says, laughing. "It was sooo cool.") She's been to Canada, Mexico, Germany, Italy and Japan and across the United States multiple times.

"People are always like, 'What is the biggest difference now that you're with Virgin?'" she says. "When you're working in the Christian world, there's always this ultimate blanket statement that you can kind of win any argument by saying, 'This is my ministry; this is what I feel called to do by God.' And everybody says, 'OK, if that's your ministry, we understand that you need to be doing that.' But in the mainstream world, it's not all about ministry, your calling and motivation. It's about selling records and being successful.
Also, being in both [the Christian and mainstream] worlds is double the work. But it's been cool, although it is interesting when at 7 a.m. you're at a [secular] pop station and an hour later you're at a very conservative Christian AC [Adult Contemporary] radio station. But I think one of the greatest things is that everybody has just been so supportive from both sides. Before I went out, I wondered if I would get a lot of weird comments from the pop world because of my Christian background [or] a lot of weird reactions from the Christian side because of the new pop stuff. But 99 percent of the time it's been positive. People have been very supportive, so that makes it really exciting for me. In a lot of situations [at Christian radio stations], we've ended up in a conference room, and the whole team would just pray over me. I've gotten multiple comments about how they're really excited for me, and that they've been praying for me with their families. It just really feels like the industry is ready for this."

Have something to say about this article? Leave your comment via Facebook below!
advertise with us
Example: "Gen 1:1" "John 3" "Moses" "trust"
Advanced Search
Listen to Your Favorite Pastors