Saint or Sellout?
Michael TenBrink, Contributing Writer
Wednesday, September 24, 2003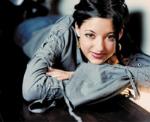 The Business of Music

Still, hitting the big time doesn't come without its share of controversy. Some fans on the message boards of StacieOrrico.com have questioned her career decisions of late, wondering whether she's "sold out" for worldly fame and fortune. There seems to be particular suspicion of her decision to partner with a "secular" record company and what influence Virgin may try to exert on her career.

"A lot of people thought that a secular label would pressure me. But a lot of [the people in mainstream music] have come from rock labels, and they understand the whole idea of underground bands going mainstream and how they have to take care of the original fan base so that the fans don't feel like they're being left behind," she explains. "They've really been supportive of my Christian background. For instance, the Underdogs [two of Stacie's many mainstream producers] are really cool. They're these two guys who were raised in the church, and I remember going in there and Damon was like, 'So, you have this Christian/gospel background, eh? Do you know all the books of the Bible?' And I was like, 'Yeah.' And he said, 'C'mon, let me hear them!' It was fun!"

But not one to duck the issue, she says matter-of-factly, "My music is not for everybody. I totally understand if someone won't take her daughter to a Destiny's Child concert [to see me] because my mom wouldn't have taken me when I was 7 either. But a lot of people wouldn't take their 7-year-old daughters into a church. And I feel called to that side as well," she says with conviction. "But no matter where you go, no matter what you do, there are going to be people who don't like your music, who don't like how you do things, and I just have to be confident that God has already pre-chosen the people who my music is going to get to, and He's gonna bring it to them. I feel like I'm very attentive to the Lord. I obviously don't want to offend people, but I can't let it totally tear me apart inside and change the way I do things just because there are certain people who don't like the decisions I've made."

Keeping Her Head on Straight

Stacie says her family helps keep her accountable. Her parents, Dean and Patti, raised their five children (Stacie's the middle child) with a strong sense of ministry. Dean served overseas with Promise Keepers, and the family also has worked with Youth With A Mission. At the photo shoot for this month's cover, Mrs. Orrico excitedly told me about the behind-the-scenes impact she and her daughter have been able to make this year, and the chances they've had to show their faith to make-up artists, video directors, photographers and others they've come in contact with.

Stacie seems very aware of how blessed she is to come from such a strong Christian home. "We're all really close, we're all good friends, and I feel like I'm really fortunate to be in the family that I'm in because it would be difficult to do all this without their support. I think my mom is my accountability when I come home; she's always asking me questions about how things went. And my dad is always leaving messages like, 'Hey Stacie, just wanted to let you know that from 7:05-7:15 this morning I prayed just for you and for your work.' My brother calls me twice a week and leaves me verses or chapters to read [from the Bible] that made him think of me. My sister actually lives in Italy, but every time she e-mails me, she always leaves me with something to think about."
Have something to say about this article? Leave your comment via Facebook below!
advertise with us
Example: "Gen 1:1" "John 3" "Moses" "trust"
Advanced Search
Listen to Your Favorite Pastors