Sara Groves: Enjoying Beautiful Days
Andrea Bailey, CCM Magazine
Monday, January 30, 2006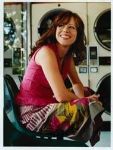 Groves takes this inward shift one step further by exploring the concept of "add to the beauty," the phrase she uses to describe the works God has prepared in advance for us to do. Adding to the beauty is "the Kingdom coming. It's a little brick. It's a little mortar," she says. "Now then, how do we live with this change in our lives, with this divine rewriting that's taken place? What's this thing that God's set me here to do because it's not just to groom my personal faith all my life. I've grown up much of my life grooming my own faith. In the American church, we are so good at that. We've got the ultimate worship experience. … We've got every resource under the sun to perfect our personal devotional life, and now what? You don't go to school to keep going to school. You go to school to then go do something."
For such a deeply personal album, Groves needed a producer who would help her capture the essence of her piano-driven sound. Her friend Charlie Peacock (Switchfoot, Nichole Nordeman), who had co-produced the elaborate "The Other Side of Something," recommended Sara return to a "Conversations" feel for this next album. "You're a mom and pop store. People trust you," he told her. While Groves knew she couldn't go back thematically, she did "feel a compulsion to take beautiful pictures of the songs, not to prop anything up." The two of them started tossing around names of other producers, and she felt an immediate tickle when Peacock suggested his one-time mentor Brown Bannister (MercyMe, The Afters). Bannister had produced several of Groves' all-time favorite albums, including many by the hero of her youth, Amy Grant.
"When my husband Troy and I met with Brown, it felt like a great fit. What Charlie had said about Brown was, 'You can't find a better song photographer than him.' And that's exactly what happened. He has an amazing sense for the songs. He doesn't come at it with a preconceived idea of what it's going to be. He comes at it kind of wondering, 'What does this song want to be?'… He was very transparent as a producer; he wanted my input."
"Every word, every note, every texture, every musical stroke is so important to Sara," Bannister says, "not because she is a control freak, but because she cares so deeply that every aspect of the recording should be a servant to the revelation and truth that God has given her to communicate. It doesn't take a lot of imagination to guess how refreshing it is to work with an artist like this. I laughed, I cried, and by the time this goes to print, I will have ordered the T-shirt!"
The combination of teaming with Bannister and pursuing new songwriting collaborations stretched Groves beyond anything she's ever done. "Ed Cash was my counselor/cowriter,' she relates as she reflects on her cowriting experiences. "For me, getting to songs is such a personal unearthing of things. Peter Gabriel has a song called 'Digging in the Dirt.' It's all about … digging in the dirt … this introspective thing, and for me, songwriting is like that. [With] Gordon Kennedy … I was in awe. I was kind of quiet that whole time because I was pretty star-struck. … He just laid out these gems, these ideas [for] the bridge from 'Loving a Person.' And then Matt Bronlewee was just a ball. We just talked for two hours and then in 30 minutes wrote 'Add to the Beauty.'" As a result, Groves says her writing has improved and her songs benefited. "I'd love to do it again!"
Gifted by these new thoughts and processes, "Add to the Beauty" is a landmark album for her. "I finally scratched an itch that I've been trying to get. … I did it – I used the least church language I've ever used and yet made the clearest declaration of faith I've made in my career. And to me, that's a goal I've been striving for, to speak to people's hearts, not to their culture, not to their church background, but … I want Eve and Adam to be able to listen to this album under the tree and say, 'Isn't that true? Isn't that the thing?'"
Have something to say about this article? Leave your comment via Facebook below!
advertise with us
Example: "Gen 1:1" "John 3" "Moses" "trust"
Advanced Search
Listen to Your Favorite Pastors