Sara Groves: Pray Tell
Krista Barré, CCM Magazine
Wednesday, December 12, 2007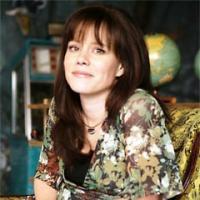 If CCM were to publish an Artists' Choice Awards issue, there's a very good chance INO Records' own Sara Groves would be named "Best Singer/Songwriter" by her peers. (And that'd come as no surprise to anyone who's been reading CCM's interviews the past couple years.) Sara has always challenged listeners with her perspective on life, relationships and the kingdom of God. And her new album, Tell Me What You Know—which hit stores last month—is no exception.
As Sara and husband Troy adjust to life with three young children (newborn daughter, Ruby Cate, born July 13, joins brothers Kirby and Toby), she takes some time to discuss the inspiration of her new album—the joy of entering into people's lives and finding hope in hopeless situations.
CCM: What are the events or ideas that inspired Tell Me What You Know?
Sara: This album is largely built around the challenge for me as a believer to enter into God's heart for justice and be part of that. So part of Tell Me What You Know is written about the challenges the staff of International Justice Mission face, and the commitment they've made to cast their lot with people less fortunate … the oppressed. A good half of the songs are written about asking, "What is my role in this kingdom of God?" The other half of the songs are written in light of the victims, and just their unbelievable courage in the face of tremendous pain and suffering.
CCM: What is the meaning of the title, Tell Me What You Know?
Sara: I am saying to the victims of slavery and human trafficking, "Tell me what you know about God. I am not even close to the suffering you have had, and you know God in a way that I'll never know Him."
We could look at someone in a developing country and think, "I have nothing in common with them." But, yes, you do. We all have a space in our hearts, this place where we pray and where we have hopes and dreams.
CCM: This album is hopeful and inspiring when it could have been dark and melancholy. How were you able to see past the harsh suffering and write about the hope in these stories of tragedy?
Sara: First of all, I had to get past the numbers, the mass millions and the statistics. There are 27 million people enslaved today, millions of those women and children. In this great book I was reading by Mark Helprin, A Soldier of the Great War, he says the loss of one life—we can't even comprehend it. We can't even know all the passions and joys in that one life, and at two lives you're at abstraction. There is a song on the album called "Abstraction." God looks down on us and sees individual hearts. I don't know how He does it, but He does. He sees us as individuals, and that's the whole Gospel. It's about one by one, people forming communities.
Hope is the heart of all our favorite stories. We cheer for Luke Skywalker. I mean he's grossly outnumbered. He's this little fly to the Imperial Death Star. We cheer for him, not because we think he is going to win, but because he is against all odds. He is going to fight because it is the right thing to do. And Frodo sets out on this journey, not because he thinks he can take on the whole world, but because he can't do anything else. He has to do the right thing. I think there is a great deal of hope in entering into this long defeat. These are losing numbers. These are losing causes. We are casting our lot with the oppressed. We're saying, "I'm doing this because it's the right thing to do, not because I'm going to make a great name for myself." There is hope in these individual stories, and there is hope in the fact that it is just the right thing to do.
Have something to say about this article? Leave your comment via Facebook below!
advertise with us
Example: "Gen 1:1" "John 3" "Moses" "trust"
Advanced Search
Listen to Your Favorite Pastors