Shane & Shane: Friends & Family
Lindsay Williams, CCM Magazine
Friday, December 28, 2007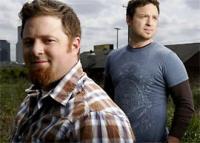 The setting of a coffee shop seems to emerge quite often in the story of Shane & Shane. The duo started serving up their brand of acoustic pop in coffeehouses on college campuses across the nation. Shane Barnard often finds inspiration while sitting at a corner table writing in his journal. In fact, the first radio single ("We Love You Jesus") from their new album, Pages, was born out of one of these caffeine-induced moments.
However, back in '97 the Shanes found themselves in a coffee shop in Texas having a conversation that only came full circle in recent months. What started out as a dialogue between two college kids trying to make sense of biblical truth became a landmark discussion. Barnard revealed that the thing that would change his faith more than anything would be seeing his dad become a believer.
That dream became a reality five years later. "My dad was the most alien person that I have ever known," explains Barnard. "He was just this goofy, flamboyant, rough, tough, fearless man who spent the first 30 years of his life just on the edge of the world. He's a big man with a bunch of freckles and red hair and scars and smoking cigarettes—just that guy. I grew up with that man."
In the meantime, Shane was discovering a faith of his own. Growing up Catholic, he actually counted around 18 churches that he attended, describing his faith as a "somber, horrible, guilty mess." It wasn't until high school that Barnard became a believer himself, "looking up at west Texas stars and having thoughts of 'There's gotta be more than football.' That's really all there is in west Texas—football," he says.
And, while Barnard says his dad was never confrontational and always respected his son's beliefs, his father just didn't feel a need for religion. "Most of my Christian life, he has been the focus of my ministry," continues Barnard, "as far as my prayer life and what I thought about and what I asked God for."
It took 4 1/2 years for these prayers to come to fruition. It was then that their relationship began to grow as well. "My dad and I went on several trips together, just kind of father/son trips, and we had never done that. We started to have these talks, and he started asking these questions. …"
Then, in what Barnard describes as the "ultimate father/son moment," his dad began to fully embrace Christianity while the two were fishing one Easter. Dan Barnard soon found himself surrendering to Christ in his mid-60s after years of watching his son live out his convictions. He passed away from multiple heart attacks this past March at the age of 68.
Barnard's closest friend, Shane Everett, sheds some light on the progression: "[It was] a full five years of consistent praying and consistent life in front of his dad. It was cool because I got to be a part of that whole process. [When] his dad became a believer, it just made those Scriptures … a lot more real than just reading it. I'll say for Shane B., that's probably the greatest victory in the Lord he has had in his life. I don't think anything would ever come close to compare to that.
"If [God] could save Dan Barnard, He can save anyone," he continues. "It's encouraging for me and my family, and it's a faith-builder. Shane has shared that story from stage multiple times, and I think there are so many people in that place where the family is such a hard place to minister. It's probably the hardest place for me to minister."
Everett's story of faith has its own redemptive junction. Everett found himself sitting alone on a stage, waiting to be paid for a gig. (He played in a cover band during college.) He surrendered his life to Christ in the middle of a dark, disheveled, dirty bar. The picture of the room that night mirrored the state of affairs in his heart. "[That was] April of '97. Here we are 10 years later and playing Christian music … the irony. You never know. I hated Christian music before. It's just weird—the humor of the Lord."
Have something to say about this article? Leave your comment via Facebook below!
advertise with us
Example: "Gen 1:1" "John 3" "Moses" "trust"
Advanced Search
Listen to Your Favorite Pastors