Shane & Shane: Friends & Family
Lindsay Williams, CCM Magazine
Friday, December 28, 2007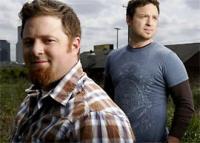 Everett grew up in church and succumbed to a life of morality and being "good." "It would have been a social faux pas to say that you weren't [a Christian]. 'I'm a Christian; everybody's a Christian.' That's basically how it was," he says. "It was a cultural thing growing up. It's kind of a social code we live by; you get applause for not drinking, smoking and having sex with your girlfriend. … There is still so much of that going on. It's kind of disheartening at times. I feel like that's the message in our heart: There's a lot more than these rules—it's grace and it's faith and getting into reading the Bible."
The fingerprints of grace, faith and Scripture can be unearthed throughout Pages, finished just six months before Barnard's father's unexpected death. The songs took on a whole new meaning in the time that followed. "There are a couple songs on the album that really helped me in my dad's passing; they talk about death and what He's done with death. Loving the Lord in the sight of death and trusting Him in it," says Barnard.
But don't be fooled into thinking that death pervades the essence of the new record. In fact, the vulnerable honesty literally stripped from the pages of Barnard's journal radiates nothing if not life. "[My dad] would talk about Jesus a lot in a very gruff kind of way," he says. "He had a lot to do with just the Lord building my faith in general, in me believing in a sovereign God."
And while Pages is connecting with its creators in new ways, fellow artists continue to resonate with the songs and the hearts of the men behind the melodies. "I've had the good fortune of being able to get to know Shane & Shane this past year, and I am so thankful for that," says Third Day's Mac Powell. (Shane & Shane joined Powell on the "Glory Revealed Tour" this spring.) "Both these guys are amazing men who inspire me, not only by their unbelievable music and talent, but by their incredible hearts as well. Anyone who hasn't taken the time to check out their newest album, Pages, should do themselves a huge favor, block out an hour or so, sit back, enjoy and be inspired. It is, by far, one of the best Christian albums of the year."
Today the two find themselves at the pinnacle of their calling, having had the best street week of their career. With the release of the latest disc, they are captivating audiences with their live show, sharing the stage with Bebo Norman and Monk & Neagle.
In addition, the Shanes are entrepreneurs running two Dallas-based businesses: Spaceway Studios and video production company Media Juice. With the additional work brought on by two business entities, both men have reevaluated their roles with Shane & Shane and restructured the way they do business, with Barnard taking on creative writing duties and Everett embracing a more managerial role.
"Shane B. has more of the artist type of personality than I have," explains Everett. "Me sitting at a coffee shop for four hours doodling in a journal is like getting a root canal. For him, that's paradise. If I could sit in the office all day, every day, man, that would be a dream come true."


Graduating with a degree in Journalism/Mass Communication from Samford University, Lindsay Williams is the managing editor for CCM Magazine and currently resides in Nashville. myCCM.org/lindsaywilliams






© 2007 CCM Magazine. All rights reserved. Used with permission. Click here to try a free issue.


Have something to say about this article? Leave your comment via Facebook below!
advertise with us
Example: "Gen 1:1" "John 3" "Moses" "trust"
Advanced Search
Listen to Your Favorite Pastors