Songs of Biblical Proportions Found in "The Message: Psalms"
Dave Urbanski, CCM Magazine
Tuesday, February 21, 2006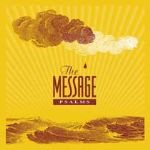 Another key to the cohesive feel of the album, LaRue says, was the commitment coming from each artist – both to composing the songs and to the message of "The Message."
"Everybody really owned what they were singing about and had a wholehearted belief in 'The Message,'" he notes. "This compilation felt special because everybody was really excited and dug deep for their favorite psalms."
Or at least psalms that reflected where they were in their spiritual journeys.
"It was a bit of a challenge for me to write because my songs are usually born out of my own life experiences," says Sparrow recording artist Shawn McDonald, who put music to the words of "Salvation (Psalm 71)." "However, even though it is straight from the Psalms, it's straight from my heart. In fact, when I read over this section of Scripture, I felt like this was the song God was leading me to write. We live in a time when evil is so prominent, so it seemed right to focus on the salvation of God."
Jason Roy, who sings Building 429's rendition of "Come Close (Psalm 69)," couldn't agree more.
"At the time we were writing this song, something really resonated with me when I read, 'Come Close, Answer with love, Answer with salvation,'" he explains. "Difficulties never cease, the winds of change toss us about and the voice of God at times seems oceans away. Funny isn't it that 2,000-plus years have passed, and today we still live in a world where one second we rejoice and the next we cry out for a touch from our Savior? Just like the psalmist I've prayed, 'Come Close, Answer with love, Answer with salvation – and remind me that I'm yours, Father.'"
This being LaRue's first foray into the world of big-time production, the 24-year-old admits the process was a bit intimidating at times, but having Jones by his side made everything much easier – and much more humorous.
"Monroe would make fun of me," LaRue recalls fondly. "'What's a punk kid doing working on a record like this?' But I was so excited to have Monroe to grab arms with and work with. I learned a lot working with him on LaRue's last record – he's great about making a creative atmosphere in the studio."
After the complex, roller coaster, year-and-a-half journey making "The Message: Psalms," LaRue's hopes for the project have become quite simple: "I just want it to be an overall daily encouragement for wherever the listeners are at with their walks with the Lord."


© 2006 CCM Magazine.  All rights reserved.  Used with permission.   Click here to subscribe.




Have something to say about this article? Leave your comment via Facebook below!
advertise with us
Example: "Gen 1:1" "John 3" "Moses" "trust"
Advanced Search
Listen to Your Favorite Pastors