Stanley Climbfall - Music Review
Andy Argyrakis

Music Reviewer

2002

13 Nov

COMMENTS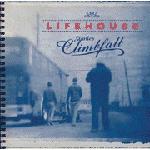 Artist:    Lifehouse
Label:    Dreamworks
Lifehouse's ability to couch open-ended spiritual euphemisms across modern alternative rock soundscapes landed its debut No Name Face in the hands of both believers and the seemingly uninterested. 
Such a feat has been reprised with its follow-up Stanley Climbfall, on which vocalist Jason Wade alludes to the Lord's promise to stand by His people ("Anchor"), pleads for release from the world's grip ("Take Me Away") and chronicles a personalized version of the prodigal son tale ("Empty Space").
Wade's words may be heartfelt and vulnerable, but those cuts and the 10 additional fail to tread any uncharted musical waters.  Instead, Lifehouse meanders in the safe haven of scruffy vocal moans cross-pollinated with sweeping guitars and a series of sweetly manufactured TRL friendly beats.  Although the hooks are abundant, the lyrics introspective and the choruses catchy, what could have been Lifehouse's experimental evolution takes a back seat to No Name Face.
Used by permission.  CCM Magazine © 2002