Starflyer 59 and Joy Electric: Bands of Brothers
Christa Farris, CCM Magazine
Tuesday, July 26, 2005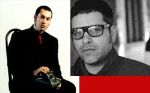 When it comes right down to it, there's nothing typical about Jason and Ronnie Martin. In fact, these rock & roll brothers are truck drivers by day and musicians by night — "kooky" musicians, according to Jason's description.
Case in point: Instead of listening to the "it" bands of the moment for inspiration, Jason doesn't usually listen to music at all. Even when he's making the local trucking rounds, the creative force behind Starflyer 59 prefers talk radio and R.C. Sproul's Bible teaching to anything Top 40 has to offer.
Then there's his brother, Ronnie – founder of Joy Electric – who's probably one of the only artists in Christian music who's inspired by Kraftwerk, Human League and "old German bands from the '70s" but can also appreciate a catchy hook he recently heard on the new Mariah Carey single.
And it's these unconventional traits combined with the progressive sonic influences such as New Order and The Smiths they discovered later in life – as Jason and Ronnie grew up in a family that didn't allow "secular music" in the house – that's made for a colorful catalog of songs from Starflyer 59 and Joy Electric for the past 10-plus years.
Roll With It
The Martin brothers' musical career unofficially began when Ronnie asked then 14-year-old Jason to join his band. "I started playing keyboards," Jason says. "But I never planned on really doing music. It just kind of happened, and we've been doing it ever since."
Later on, this teenage hobby became a full-fledged career when Tooth & Nail founder Brandon Ebel connected with Jason after a show. "He was working for another label at the time. I gave him a demo and tried to get signed to the label he was working at," Jason recalls. "A couple of months later, he called me and said he was starting his own label. And that was it."
While the more reserved Jason clearly saves his words for his music, with concise answers provided for nearly every question asked during the course of the interview, Ronnie comes across a little more chatty about what inspired him to pursue music.
"I just know that from an early, early age when I was around 10 years old, I was listening to Keith Green, Larry Norman and Daniel Amos records and wished I could learn how to write songs and make records," he says. "And now I feel really blessed that I'm able to have a label [Tooth & Nail] that's supported me for 10 years. I could've never imagined myself being in this position, but I hoped I could be."
The Next Chapter
Not only do Jason and Ronnie both have the creative and financial backing to live out these recording dreams, it's an opportunity they take advantage of as often as possible as they've always got something to say. And unlike many marquee artists who deliver a new disc to fans every few years or so, you can always expect at least one new album each year from Starflyer 59 and Joy Electric.
"I just love songwriting because I feel like it's the only thing that I've even remotely been good at my whole life," Ronnie states. "It's probably the only thing in life that comes easy to me. It doesn't mean that I'm great at it because it comes easy to me. I don't feel like I ever have a shortage of ideas. For so long we've been the only band who has done any of this kind of stuff, [synth-pop/rock that uses only analog synths to generate sounds, a phenomenon that's becoming popular even in the electronica underground] and that makes it more exciting. It's fun sticking out like a sore thumb and continuing to do what I like."
Have something to say about this article? Leave your comment via Facebook below!
advertise with us
Example: "Gen 1:1" "John 3" "Moses" "trust"
Advanced Search
Listen to Your Favorite Pastors