Steven Curtis Chapman Finds Rejuvenation in "All Things New"
Erin Curry, Baptist Press
Thursday, May 13, 2004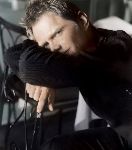 NASHVILLE, Tenn. – For someone who has written 41 No. 1 songs and won more Dove Awards than any other artist, creating something new and better than before could present quite a challenge – unless God is in charge of the project, Steven Curtis Chapman said.
About a year ago, Chapman began intentionally praying for God to make clear whether He had something to say through him that would lead to making another album. After adopting two daughters from China to add to his three children, Chapman said his life was hectic and full enough without the work of a 14th album.
"I just said, 'God, unless You're really in this, I'm not going to go off and just make a record because it's time to make a record," Chapman said at a news conference during Gospel Music Week in late April in Nashville, Tenn.
"So I began to really pray, and it seems like I invested a tremendous amount of energy in trying to just get a clean slate – forget everything that happened, forget trying to follow up or recreate or do this or that better than, or fix that or not do that again or whatever – and just get into a place where I really believed God was saying something He wanted me to communicate," Chapman recounted.
Getting Started
Someone told Chapman about a book called "Don't Waste Your Life" by John Piper, and he read it on a flight during that season of intense prayer. By the time the plane landed, he said, he had started writing about eight songs.
"I just kind of let myself go with where God was taking me and got very excited about this new understanding. I've always said and known I'm not the point, but God gave me through John Piper a way of kind of throwing a large, cold bucket of redemptive water in my face and saying, 'Wake up. Here's what it really is about,'" Chapman said. "God does love you and have a wonderful plan for you, but it's because it makes His name great, because it glorifies Him and reveals His glory and His greatness."
Along with Philip Yancey's book "Rumors of Another World" and the preaching of Chapman's pastor, Scotty Smith at Christ Community Church in Franklin, Tenn., Chapman found his heart stirred and found himself more compelled and more inspired than he had ever been in his life, he said.
"I was more sure that God had in fact called me again from the bench or out of the off-season and called me back to spring training and said, 'Alright, we've got a big season ahead and I'm counting on you, and I'm counting on a lot of things from this,'" Chapman said. "I had a real sense of that, but while I found myself never more inspired and never more compelled, I felt never more exhausted."
Solidifying the Message
God kept sending a message to Chapman that He really is a God who makes all things new, from page one, sentence one of Scripture all the way to Revelation 21 when says from the throne, "I am making all things new."
Chapman said the phrase from "Amazing Grace," which declares, "When we've been there ten thousand years, bright shining as the sun, we've no less days to sing God's praise than when we'd first begun," used to make him think, "Man, 10,000 years singing God's praise, that better be some good music 'cause that's a long time.
"I just didn't get it, but then I began to think, 'Okay, if God is so full of new revelation of Himself and so glorious that even after 10,000 years every time we sing God's praise He reveals a little more of Himself and says, 'Check this out' or 'Let Me show you this' or 'Let me reveal more of Myself,' then all of a sudden it's all new,'" Chapman said. "And if that is the reality of who God is, who makes all things new, then that's something I can get really excited about."
With that settled, Chapman said while he doesn't know if his upcoming album, titled "All Things New," is the best thing he has ever done, he knows he has never been more excited about something and never felt more compelled to sing.
Have something to say about this article? Leave your comment via Facebook below!
advertise with us
Example: "Gen 1:1" "John 3" "Moses" "trust"
Advanced Search