Survival of the Fittest
Christa Farris, Contributing Writer
Wednesday, May 07, 2003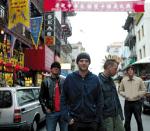 When it comes to survival in the business of rock 'n' roll, the odds are heavily stacked against bands. Watch almost any episode of VH1's "Behind the Music," and you'll hear a familiar story of musicians experiencing the traditional 15 minutes of fame, only to be dumped by the record label and have their albums end up in the bargain bins at Tower Records.

And with a much smaller and even more unpredictable fanbase, that story seems to play out in fast forward in the Christian music world. It's not very often that a Christian band stays viable past a decade. But that's exactly what Audio Adrenaline has accomplished with nine albums to its credit, including its latest effort, "Worldwide" (ForeFront), and a tour itinerary that never seems to quit.

So what's the secret to success for a band that makes a living encouraging youth groups? Humor, catchy songs, plenty of prayer and a policy of checking egos at the door.

When sitting down for an interview with Audio Adrenaline, it's best not to prepare a traditional list of questions because the answers will never make an interesting story. But let the band members just be themselves, and you'll not only learn a lot, but you'll laugh a lot, too.

As the foursome huddles around a small table to chat, they jokingly provide the dirt on each other the way an older brother would pick on a younger sibling. Known for an undying love for Johnny Cash, filmmaking and an endless knowledge of musical trivia, according to his bandmates, drummer Ben Cissell reveals that AA frontman Mark Stuart has an identity crisis.

"The funny thing about Mark is that he wants to be 'Johnny Hollywood,' but he's always going to be 'Virgil Owensboro,'" Ben says with a maniacal laugh. "He wants to be the guy who hangs out in Hollywood and dresses really nicely, but he can't hide the fact that he's from Owensboro, Kentucky. It comes out of him every once in a while — the 'Opie-ness.' He's fun, but he's still got a bit of the mullet inside of him. He really likes all the Hollywood style, but his favorite movie is 'Footloose.'"

"No, it's 'Jaws,'" Stuart retorts.

"OK, so his favorite movies are 'Footloose' and 'Jaws,'" says Cissell. "But it's not really the movie — it's the lifestyle. He wishes he were Kevin Bacon and had that 'Footloose' sort of life."

"That simply isn't true," Stuart argues.

Five minutes later when we've begun another conversation, Stuart absently adds, "Maybe George Clooney but not Kevin Bacon. Dude, I've only seen 'Footloose' once my entire life."

Cissell looks at him and jokes, "Man, are you still talking about that?"

But long after the teasing has ended, the men have nothing but compliments for each other. Cissell acknowledges that Stuart's spiritual leadership and sharp business sense have held the band together for 11 years. Stuart claims it's bassist (and the only AA member sporting a mohawk) Will McGinniss who has done so. "Will is the heart of Audio Adrenaline — the oil that keeps us spinning. He has this huge compassionate heart and works the hardest, specifically on the road."

Rounding out the group and stepping up with more lead vocals (you heard his voice on the band's recent hit "Ocean Floor") is the occasionally shy, sensitive guitarist Tyler Burkum. While Stuart says Burkum will have a successful solo career long after Audio Adrenaline has retired, Burkum is self-deprecating about his talent and laughs at his inability to get a guitar endorsement "because I can't sell myself."

Have something to say about this article? Leave your comment via Facebook below!
advertise with us
Example: "Gen 1:1" "John 3" "Moses" "trust"
Advanced Search
Listen to Your Favorite Pastors