Tenth Avenue North: In Passionate Pursuit
Kevan Breitinger, CMCentral.com
Wednesday, May 14, 2008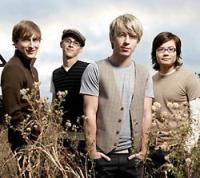 New Reunion Records recording artist Tenth Avenue North is preparing for the release of its debut, Over and Underneath, releasing May 20.
In between tour dates opening for MercyMe and David Crowder Band, front man Mike Donehey took the time to introduce the band and its new record.
Visit http://www.tenthavenuenorth.com/download/ from now through May 20 and enter the code tenthlovesccm to redeem a free download of the band's hit single, "Love Is Here" from the debut, Over and Underneath.
CMCentral: Thanks for making the time to talk today, Mike. I spent the day yesterday with the new album and read a lot on your web site. It seems to me that you have the heart of a teacher.
Mike Donehey (Tenth Avenue North): You would be fair in saying that, yes. I think I have a heart for helping other people understand things that really moved me or helped me. If I grasp a new truth and it changes something in my heart, then I always, naturally, want other people to experience it.
Well, that is the heart of a teacher. You're doing most of the writing for the band, aren't you?
Well, on this record [Over and Underneath] I did most of the writing, although I also wrote with a few outside writers. But we composed all the music together. It's just the lyrics I wrote on my own.
So in having a teacher's heart, are the lyrics more crucial to you than the music?
They say the melody is like the first date, and the words are what keep the relationship going with the song. So I recognize that without a good melody, no one's going to want to hear what you have to say. But for me, ultimately what's most important is what we're saying, not just how we're saying it.
I read that your mission was to know Christ and make Him known, so I thought you might feel that way.
Westminster Catechism says that the chief end of man is to enjoy God and glorify Him forever.
The album is so worshipful, and I found that very provocative considering your mission. Do you believe that authentic worship can pierce the heart of an unbeliever and reach him for God?
Colossians says, "Whatever you do, do with all your heart," and Romans 12 says, "In view of God's mercy, offer your body as a living sacrifice. This is your spiritual act of worship." So I think when an unbeliever sees not just worship, but worship that is driven and fueled by God's mercy, I think that is what opens people to the gospel.
There is a worship that is pretentious and "put on," motivated by a desire to be seen, and then there's the authentic worship that Romans 12 speaks of: "In view of God's mercy, offer your body as worship." So the focus for me in worship is to give people a clear picture of Romans 1 through 11, of justification by faith, through grace. That statement, about offering your body as worship, hinges upon viewing God's mercy and the 11 chapters that preceded that statement. So that's why our worship [needs] to be worship that teaches, if that makes sense.
That does make a lot of sense, and I can relate to it because I am somebody who really came to Christ initially through experiencing worship music. I didn't understand the whole message immediately, of course, but my spirit recognized its authenticity. So when I read your mission, I thought maybe that's where you were coming from.
The Bible says that David played for Saul, and the evil spirit that tormented him left him. So we can never underestimate what goes on when music gets played. I'm not sure I understand it completely.
Have something to say about this article? Leave your comment via Facebook below!
advertise with us
Example: "Gen 1:1" "John 3" "Moses" "trust"
Advanced Search
Listen to Your Favorite Pastors