Tenth Avenue North: In Passionate Pursuit
Kevan Breitinger, CMCentral.com
Wednesday, May 14, 2008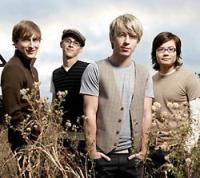 If we think we understand it completely, it shows how little we know.
Yeah, like Psalm 32 says, "The Lord is enthroned, or inhabits, the praises of Israel." I don't even get that, but I know supernaturally, somehow when we praise in response to what He's done for us, He is there in it.
Oh, I so love that verse! So I read a story telling how you got serious about music following a car accident?
Actually, I hadn't even played guitar before. In my senior year of high school, I was thrown out of a flipping vehicle, and broke my back in a couple places, and my head. I was in Intensive Care; they thought I was going to die and all that. So I was laid up for a month on my back and thought, I'm not gonna be able to play sports my whole life. Maybe I should think about playing an instrument. So I asked for a guitar for Christmas, and that's how I got started.
But you were a believer at the time of your accident?
Yeah, the summer before that I actually had a really significant spiritual experience. I grew up in Christian school, which can really promote a lot of lethargy in you somehow. But I went to this magnet art program for a month that summer and was surrounded by non-believers. Well, I shouldn't say non-believers because everyone believes in something. But I was surrounded by people who don't believe in Christ, and I found myself defending my beliefs very strongly.
It forced me to see how much I really believed it. Right after that real spiritual wake-up that summer, He sealed the deal by showing me, "Remember, you can die anytime that I want you to die." So my life verse after that accident was from Job 34, where it says, "If God withdrew His spirit and breath, all mankind would die." People say to me, "I wish I had an experience like that," but to that I say, "If you're here, the only reason you're alive is because God is saying, 'Breathe.'"
Well, I guess that explains the strong theme of surrender that runs through Over and Underneath.
I think it woke me up to the fleeting nature of this world and everything in it. In Hebrews 10, it says that Moses regarded the reproach of Christ to be of greater worth than the treasures of Egypt because he was looking forward to the reward. The Bible says, "Consider, oh man, that you are just a vapor." We're here for just a little while, and when you really start to grasp that, it's easier to place your treasure in things other than this world. It's a treasure-delighting issue, at its very core.
We are made for pleasure, you know. Blaise Pascal even said that everything that a man does is motivated by his desire for joy. Even a man who kills himself does so because he thinks that's going to give him freedom. To quote C.S. Lewis, "It's not that our desires are too strong; they are too weak, for we are far too easily pleased."
Wow, you love to talk about the Word, don't you?
Oh, come on.
That's a beautiful thing. I know you're doing some writing now, too. I guess it's the overflow of your heart to teach.
And here's the temptation: why do I write? Jesus said, "Come to me, all you who are thirsty, out of you will flow rivers of living water." Is my writing, my song-playing, a grateful reaction to the mercy I've been given in Christ? Is Christ using me, or am I using Christ? As we get more attention, I've found that is the temptation. Now I can put it on cruise control, and I can use Christ to write songs and get popular and make everybody love me. One of the songs on the record is called "Satisfy," and it says, "Satisfy me in the morning with Your unfailing love." Otherwise I'm going to look elsewhere to get my validation and satisfaction.
Have something to say about this article? Leave your comment via Facebook below!
advertise with us
Example: "Gen 1:1" "John 3" "Moses" "trust"
Advanced Search
Listen to Your Favorite Pastors