The Almost: It's Almost Time
Brian Quincy Newcomb, CCM Magazine
Tuesday, September 11, 2007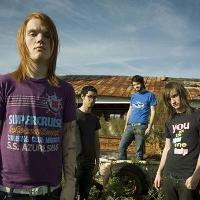 "It's such a cool feeling being on stage and playing 'Amazing Because It Is,' and there's 600 to a 1,000 kids singing along to 'Amazing Grace,'" says The Almost's newest member, Dusty Redmon. Redmon joined up as second guitarist in Aaron Gillespie's Underoath side-project, and moments like this one have signaled that he made the right choice.
"You know that a lot of those kids haven't been to church in a while," he continues. "To me, it's like when U2 plays '40' at the end of their set, and there's 40,000 people singing Psalms 40. It's hard for me not to believe that God is doing something in moments like that. It's really encouraging."
Indeed. It is.
But to many of the brightest and best minds in the music industry, the recent mainstream commercial and critical success of Underoath, and now Gillespie's second band The Almost, comes as a bit of a surprise. Put simply, his two young enterprises have defied the limitations often experienced by outspoken Christians in the world of rock & roll.
Underoath's Define the Great Line debuted in June 2006 at No. 2 on the Billboard Album Chart and has effectively sold more than 360,000 copies. The March debut from The Almost, Southern Weather, promoted in a unique partnership between Tooth & Nail and Virgin Records, similarly leaped to No. 39 on the album sales chart, moving 29,000 copies its first week. The Almost's video for lead single "Say This Sooner" quickly entered "Big 10" rotation on MTV, as the track became a Top 10 hit at Alternative Rock Radio by press time.
Young and Aspiring
And all of this because Gillespie fought off boredom during a lull in the recording of Define The Great Line by writing songs. The Clearwater, Fla.-native says, "When we do records, I have a lot of down time because I play drums and then wait to do vocals; so I have five weeks or so to do a whole lot of nothing. This year, I decided to use that time to write a record."
Gillespie had written two songs while Underoath was out on a tour with Thrice—"I Mostly Copy Other People" and "Never Say 'I Told You So'"—which he recorded in New York City, playing all the instruments himself. Then, with five weeks off in the recording process, he says, "All of these songs were written with the intention of making a record."
There's a sense of immediacy in the rock & roll of Southern Weather that Gillespie says is rooted in this self-imposed challenge: "I just felt like I had to do it in that time frame. When I was writing, I decided I'd record the rest of them the same way."
But Gillespie assures us, at this point, that this doesn't mean a break in Underoath, for musical differences or any other reason. "I'm very much fulfilled musically and artistically by Underoath; I just really wanted to make some songs that wouldn't necessarily fit that format, which I think is a healthy reason for a project like this."
Musically, he says, things were going to be more in the pop/rock vein—more melodies, crunchy guitars, singing rather than screaming. And lyrically, "I wanted to create a bunch of tunes you could listen to driving in your car and just make your own. I wanted to make the lyrics and descriptions and titles of things big enough that people could make into what they wanted it to be for themselves."
Redmon, formerly of Beloved and Dead Poetic, says of the songs, "The lyrics are so transparent; Aaron's pretty much put it out there. It's definitely the most spiritually straight-up thing I've been involved with."
Have something to say about this article? Leave your comment via Facebook below!
advertise with us
Example: "Gen 1:1" "John 3" "Moses" "trust"
Advanced Search
Listen to Your Favorite Pastors