The ! Factor: Rock, Ringtones, Politics & More
Staff, CCM Magazine
Tuesday, May 17, 2005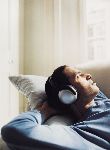 As any good purveyor of pop culture knows, trends come and go faster than you can say "Hammer pants." But when something truly extraordinary comes along, you know it's not going to be in the 99-cent bin any time soon. But what is it exactly that separates the 15 minutes of fame from the long-term success story? It's a little something we at CCM like to call !.
Now for all of you who've ever relished the fact that you discovered something grand before your friends did, this cheat sheet of sorts is for you. Get the inside track as we break down everything that's ! in 2005 -- from the best in rock to ringtones, from southern gospel to Smokie Norful, from politics to hot pop and everything in between.
! Rock
Thanks to the diligence and vision of so many artists, rock & roll claims more credibility in today's Christian music scene than most anyone might have imagined just a decade ago. Switchfoot and Relient K lead the new wave of Christian acts attaining mainstream success, as artists like Skillet and Thousand Foot Krutch seem poised to follow suit. Mainstay rockers Third Day continue to pick up honors such as the second GRAMMY trophy they nabbed in February, while rising rockers Sanctus Real dominate the dial as Christian radio's most played rock act of late. Of course, let's not forget SoCal product Jeremy Camp, who continues winning fans over at an astronomical rate.
Indeed, Christian rock's current success owes a debt of gratitude to all the acts that fought for creativity and credibility in the '90s. From Sixpence None the Richer to MxPx, bands expressed their art and faith on the very same stages as their general market counterparts. Starflyer 59 is one such band that remains as relevant today as it was over a decade ago when it struck its first chords.
"I have never wanted to be one of those bands that, if you listen to its album ten years later, you're embarrassed you ever bought it in the first place," says Starflyer singer-guitarist Jason Martin, whose band was one of the inaugural Tooth & Nail acts. "As artists, we are hoping to accomplish what we have been trying to do since we started, simply put out good music."
– David Jenison
! Hard Music
It's no secret Pillar and Kutless have led the way in the recent "mainstreaming" of hard music within the Christian community. Impressive album sales aside, consider it was just last year that Pillar performed on the nationally televised GMA Music Awards broadcast, and Kutless has already rocked the stage at one of the Rev. Billy Graham's crusades.
In the broader music world, though, there's no faith-driven hard music group that's been more influential than P.O.D. These San Diego-based rockers signed with Atlantic Records without ever toning down their message, and even with radio success, the band has no plans to tone down its music either. With a new album slated for 2005, the Southtown boys have recruited producer Greg Fidelman, best known for working with such hard rockers as Slipknot, System of a Down and Audioslave.
The future looks especially bright for Christian hard music with other extremely credible bands on the rise. For example, consider the momentum of current hardcore breakout Underoath. And nothing says "Give grandma a heart attack" like Demon Hunter, whose songs include such church choir faves as "Beheaded," "Coffin Builder" and "My Throat Is An Open Grave." Jokes aside, the kids love this Solid State Records band, and when it comes to faith-sharing, who's going to interrupt a group of guys who call themselves Demon Hunter?
The same boldness can be seen in their labelmates Norma Jean, who just released "O' God, The Aftermath" and saw a whopping 19,000-plus copies of the album snatched up its first week out. (To give you perspective, that's 5,000 more than Switchfoot's "The Beautiful Letdown" sold its first week!) "From our merchandise to the album artwork to our stage show, we like everything to have meaning," says Norma Jean drummer Daniel Davison. "We want to make sure everything is pleasing to the Lord and pleasing to His glory."
Have something to say about this article? Leave your comment via Facebook below!
advertise with us
Example: "Gen 1:1" "John 3" "Moses" "trust"
Advanced Search
Listen to Your Favorite Pastors