"The Fill" - Music Review
Kevin D. Hendricks

CCM Magazine

2004

15 Jan

COMMENTS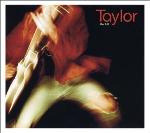 Artist:    Taylor
Label:    Rocketown Records
Taylor may be among the stream of newcomer Nashville artists, but the raw energy and talent of this solo blues-rocker has secured the services of producer Dave Perkins (Newsboys, Over the Rhine). His EP's three studio and two live tracks evoke comparisons to U2 and Bruce Springsteen.
While the generic blues riffs of "Follow Me" start things off on weak footing, "Love Somebody Else" comes to the rescue with its rough guitar/piano mix and is followed by the slower, emotive "Red Fone." The driving live cut "Sanctuary" and a harder live version of "Love Somebody Else" both capture Taylor's in-concert intensity.
The rock vibe and versatile blues playing combined with Taylor's spiritually accessible lyrics show a lot a promise. "The Fill" is just a sampler and will leave you salivating for the full course this spring. 

© 2003 CCM Magazine.  All rights reserved.  Used with permission.   Click here to subscribe.