The Heart of Me - Music Review
Mike Nappa

Music Reviewer

2002

15 Oct

COMMENTS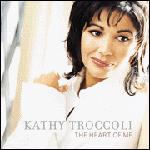 Artist: Kathy Troccoli
Label: Reunion Records
Kathy Troccoli breaks no new ground, except for one poor attempt at becoming a techno dance diva, on her album The Heart of Me.
Still, fans of this veteran artist's passionate vocals and adult contemporary style will find a few reasons for adding this CD to their collections.
One reason is the anthem prayer, "You're Still God," a song of hope born out of a struggle with cancer that Troccoli's mother endured. Other highlights include the quiet piano ballad "All for the Life of Me" and the majestic worship tune "Love Has Come."
In short, The Heart of Me delivers all that Troccoli fans have come to expect and enjoy.
Used by permission. CCM Magazine © 2002
Watch the latest Kathy Troccoli music videos at her official Godtube.com artist page!