The Letter Black: Change Is Necessary
Matt Conner, CMCentral.com
Thursday, November 19, 2009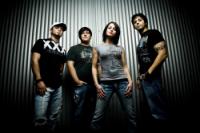 If you knew anything about The Letter Black before they became, well, The Letter Black, then you're in for some surprises.
Gone is the "Evanescence-y" sound of their last record. For that matter, the entire name has changed as well. While the players are the same—that being vocalist Sarah Anthony, guitarist Mark Anthony, bassist Matt Beal, guitarist TJ and drummer Matt Slagle—the band formerly known as Breaking the Silence is armed with a new sound, new album and new label home. And now they're ready to take things to a new level.
CMCentral recently sat down with Sarah Anthony to discuss the band's hot new touring spot alongside Hawk Nelson and Skillet on the "Awake and Alive Tour" as well as the changes in and around the band.
CMCentral: Can we start with the name change from Breaking the Silence to The Letter Black? Is there a story there?
Sarah Anthony: There was already a band that was out called Break the Silence and they broke up in 2004. The sound was way too similar obviously, so we just changed the name to avoid any confusion. I guess they still had CDs in stores and stuff even though they'd been broken up.
CMCentral: Was there anything else that changed with the change in identity and use that as a reason to change other things as well?
Sarah: You know, the last record we did on our own, we recorded with Travis Wyrick. It was more of an eerie rock. We were still figuring out writing style and what we liked as a band and what we were influenced by. I'm so glad we changed our name because this new record is just totally us. It's not influenced by anything but what we like and who we are. It's this new sound and it's not as eerie rock or Evanescence, you know? [Laughs]
CMCentral: So that was a comparison you got a lot the last time around?
Sarah: Yeah, we got the strings happening and it was slower and more melodic. It wasn't intentional, but that's how it came out. This one is a lot larger rock sound, so the new name makes sense. It's a new start.
CMCentral: Moving from Travis to Toby, did that play into the new sound?
Sarah: Toby didn't change anything at all, really. Coming into the studio, we'd written about 40 new songs and we ended up taking 15 to actually record. So we came in with those songs and we actually did all 15, so he didn't change anything. When we wrote with Travis, he helped us tweak things, because, as I said, we had just started out as a band. We were brand new and still babies forming, so he helped us find something that worked.
But when we'd gone to Toby this last spring, we'd become who we were going to be. We are who we are and there was nothing needed to change. We just came in there and did the 15 songs.
One thing with Toby was the very long hours with him. We came in Monday through Saturday and started at 11 in the morning and worked until 12, 1 or 2 in the morning. We did that for two months straight, so it was very tiring hours. But it was all right, because you'd lay down on the couch and take a nap when you weren't recording.
CMCentral: You're five days from the album release and a week from this massive fall tour, so how is everyone doing?
Sarah: Well, we're very, very excited, but we're also running around like chickens with their head cut off. Right now, I'm doing an interview in the van and we're running around trying to get all the equipment together. We've now got the new banner in the mail and we still have yet to get the CDs, so I think those are going to be dropped at our first show.
Have something to say about this article? Leave your comment via Facebook below!
advertise with us
Example: "Gen 1:1" "John 3" "Moses" "trust"
Advanced Search
Listen to Your Favorite Pastors