The Misfit - Music Review
David McCreary

Music Reviewer

2002

28 Dec

COMMENTS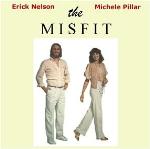 Artists:   Erick Nelson and Michele Pillar
Label:    Spare Room Productions
Originally released in 1979, this revolution-ary concept album now resurfaces for the first time on CD.  While some Jesus Movement purists may question the need for a re-release, longtime fans should consider the photos, commentary and bonus MP3 material as value-added treasure.
The Misfit features contemporary Christian music pioneer Erick Nelson and seasoned vocalist Michele Pillar in peak form.  Chronicling the life of a social outcast who finds salvation in Christ but remains bedeviled by harsh circumstances, the disc resonates a passion similar to Keith Green's and a lush musicianship reminiscent of The Carpenters. 
Highlights include classic ballad "The Moon's a Harsh Mistress" and piano-driven rocker "Take Me to the Light."  Truly ahead of its time, The Misfit certainly deserves another day in the sun.
Used by permission.  CCM Magazine © 2002 Click here to subscribe.