"The Other Side" - Music Review
Anthony DeBarros

CCM Magazine

2004

28 Jan

COMMENTS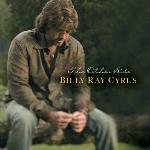 Artist:    Billy Ray Cyrus
Label:   Word
Country singer Billy Ray Cyrus' first collection of songs for the Christian market bears that same husky twang that made "Achy Breaky Heart" and his debut album, "Some Gave All," a multi-platinum smash.
"Did I Forget to Pray?" and "Face of God" have a homey, confessional quality, while fans of story songs will enjoy the love-your-neighbor feel of "Wouldn't You Do This for Me?" As a bonus, the cover of Bebo Norman's "Tip of My Heart" features a guest appearance from '80s pop star Richard Marx.
But while Cyrus has probably never been in finer voice, the song arrangements are occasionally as vanilla as country music gets. Some rootsier elements — think Ricky Skaggs' recent gospel work — could have added some additional vibe. But for country music fans, this album is a great addition to your collection. 

© 2004 CCM Magazine.  All rights reserved.  Used with permission.  Click here to subscribe.