The Real Special K
David Jenison, CCM Magazine
Monday, December 20, 2004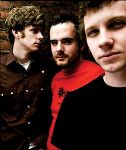 Despite having sold more than 365,000 copies of each of their two previous albums, the guys in Relient K still act like the down-to-earth kids they really are. These Buckeye State natives display no attitude, pretentiousness or self-destructive habits. But then again, a band can't sell that many records without tapping into at least one rock star cliché. Laughs Relient K singer Matt Thiessen, "Well, we almost got arrested the other day!"
Don't worry, your favorite Motel 6 is still standing. Relient K's run-in with Johnny Law didn't entail trashing hotel rooms or reckless driving; but, rather, it involved a pile of bottle rockets and some local citizens who watched one too many Ice Cube movies. After finishing up a show in northern California, the band started firing bottle rockets into the sky, and a sleepy community awoke in fear that a gunfight was ravaging its city streets.
"The cops got a bunch of phone calls about a shootout," continues Thiessen. "So next thing you know, we've got four or five cop cars heading toward us. It was crazy because they just kept coming. It was like, 'How many cops does it take to stop some bottle rockets?'"
Adds guitarist Matt Hoopes, "I was in the bus playing video games at the time, and I knew I had to get out there and see what they were doing. So I ran out the door and as soon as I did, I saw the cop cars swarming. It looked like a S.W.A.T. team. I just turned around and got right back in the bus. I thought, 'This would probably be a good thing not to get involved with.'"
Though shooting off bottle rockets is illegal, the police found the misunderstanding so funny that they let the band off the hook. Nevertheless, Relient K — featuring Thiessen, Hoopes and drummer Dave Douglas — are ready to set off some more fireworks in retail record bins with its new disc, "Mmhmm" (Gotee). "We wanted to make a good rock record, something that has its own character," says Hoopes about the band's fourth disc. "Our new album has a lot more piano and other instruments. We didn't just turn the distortion pedal on and chug through the songs. It's more diverse than that."
Adds Thiessen, "We wanted to stretch a little bit beyond what we've done in the past. We wanted to make the album not sound like all of our other records but not stray so much that we stopped appealing to [our core fans]."
As on past albums, Relient K tackles relationships on several songs, from the earnest "The One I'm Waiting For" to the twisted "My Girl's Ex-Boyfriend." Thiessen pokes fun at Attention Deficit Disorder (including his own) on "Maintain Consciousness," and nods to the recent election with a caustic political song that's aptly titled "The Only Thing Worse Than Beating a Dead Horse Is Betting on One." Overall, "Mmhmm" retains Relient K's humor without being as silly, yet the band also expands some of its deeper themes with songs like "I So Hate Consequences."
Discussing the track, Hoopes remarks, "Even though the title is on the 'cheese ball' side of things, the song talks about coming back to God and realizing that He still accepts us when we mess up. We often run away from the consequences of our mistakes when the one thing we need is God and the humble experience of returning to Him."
Adds Thiessen, "Lyrically, it's still us being us; but there's not so much bubble gum. When we started out, we listened to a lot of goofy bands; but now I'm 24 and trying to grow up a little bit. But hopefully we don't grow up too much because we're still trying to have fun and not take it so seriously."
Have something to say about this article? Leave your comment via Facebook below!
advertise with us
Example: "Gen 1:1" "John 3" "Moses" "trust"
Advanced Search
Listen to Your Favorite Pastors