The Root of the Question
David McCreary, CCM Magazine
Thursday, June 10, 2004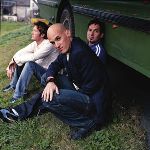 Speaking from his mobile phone in Durban, South Africa, John Ellis sounds euphoric. Fresh off a first-time set at a Franklin Graham Crusade, he and his cohorts in modern rock/worship band Tree63 have just been invited by Graham himself to continue performing at future evangelistic events. "It's such an honor for us to be a part of these crusades," Ellis says graciously.
Whether talking about ministry, his 1-year-old son, Liam, or Tree63's latest recording, Ellis seems exceedingly grateful for the opportunities he and the band have been afforded recently. After all, the South African-bred trio has come a long way since originating as Tree back in 1996.
The group signed with Inpop in 1999, ventured out on a 40-city tour with Sonicflood and shortly thereafter released its eponymous U.S. debut. The record was a bonafide hit, so much so that it garnered Tree63 a 2001 Dove Award for "Rock Album of the Year" and a spot on the popular "Festival con Dios" circuit.
But life for Tree63 hasn't been without some bumps along the way. The group's sophomore album, 2002's "The Life and Times of Absolute Truth," garnered modest sales. Also jarring was the amicable, yet untimely, departure of bassist Martin Engel, and, more recently, drummer Darryl Swart. (Engel now runs a successful multi-media company in Durban, while Swart remains active in the U.S. music industry.) Factor in the pressure of uprooting from their homeland and dealing with the challenges of marriage and fatherhood, and these guys have good reason to feel worse for wear.
But despite enduring some rough terrain, Ellis remains surprisingly upbeat. The reason for his positive outlook? Much of it involves the addition of two new band mates, bassist Daniel Ornellas and drummer Thenuis (Tain) Odendaal, both of whom hail from South Africa. "Daniel is from Capetown and comes from a long line of musicians," says Ellis. "Tain comes from Durban, but we met in Nashville. It was really God's provision for us to find another drummer from Africa while in the United States."
In addition to being content with the new lineup, Ellis also takes great satisfaction in Tree63's latest studio project, "The Answer to the Question." This album, more so than any previous effort, effectively strikes a balance between Brit-influenced pop/rock and mid-tempo worship songs. It's a formula Ellis says the band was "born to do," he adds. "We want to worship God for His sake, not for the sake of business or what's popular at any given time."
One distinction that sets the new project apart from previous efforts is the way the producers captured the essence of the band's live sound. High-octane cuts like the title track and "You Only" resonate with full-bodied force. Even the softer selections, such as "Blessed Be Your Name" and "I Stand for You," play as if they were recorded in a modern sanctuary. The live-in-concert effect was achieved, thanks to the production approach taken by Jason Burkum and Nathan Dantzler, both of whom have worked closely with Audio Adrenaline.
As Tree63's principal songwriter, Ellis shares that most of the songs on "The Answer" correlate with his recent life experiences, especially when it comes to spiritual lessons he's learned along the way. The result is the band's most intimate album to date. "I'm not one to write doctrine but, rather, what I've lived," he notes. "This time I'm commenting on what God is doing in and through my life. Any subjects I've written about are things that could happen to any Christian."
Have something to say about this article? Leave your comment via Facebook below!
advertise with us
Example: "Gen 1:1" "John 3" "Moses" "trust"
Advanced Search
Listen to Your Favorite Pastors