The Root of the Question
David McCreary, CCM Magazine
Thursday, June 10, 2004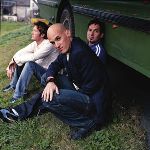 Indeed, many of the songs draw from a common-ground perspective; but two tracks in particular stand out to Ellis, each for entirely different reasons. First, there's "Overdue," a song based on his son's impending birth. Due to arrive last year on March 23, Liam was born a full week later. "There was a sense of waiting and excitement and nervousness and frustration that I think has a strong spiritual parallel," Ellis says. "All of us as Christians are pregnant with possibility and with the thing that God has birthed in us to do with our lives. Sometimes, though, God makes us wait for it to finally happen."
"Let Your Day Begin," another intensely personal track, deals with the reality of living in a fallen world. Ellis says the song was inspired during a flight from Nashville to California when he read an entire issue of Rolling Stone. "After finishing the magazine, I had a great sense of sorrow and concern over seeing how celebrities and rock stars live their lives," he says. "I grew more concerned that the world we live in, literally, is going to hell. The values and morals a lot of people have are shockingly anti-God."
This is all the more reason why Ellis is so gratified when he hears about people who listen to Tree63's music and then radically change for the better. The band steadily receives e-mail, he says, from fans who share how the music has dramatically affected the members' lives. "I think of one girl who e-mailed and said her brother was on the brink of suicide, and then he heard our music; and God touched his life," Ellis shares. "I also met a girl who got saved at a Tree63 show several years ago in Africa, and she's still a fired-up Christian today.
"It's exciting anytime we hear that people weren't just entertained by our music, but that they are inspired and encouraged to take steps toward God, or even that their lives are transformed. We love recording and playing music; but, essentially, we're most passionate about advancing the Kingdom of God and seeing lives touched in a real way."
That's certainly something worth getting euphoric about.

Tour de Force
With more than 100 live performances scheduled for this year alone, Tree63 knows about life on the road. The tour circuit can be grueling for any artist, but often it's even more demanding for those who are married and have families. "Touring is a young man's game," Tree63 front man John Ellis says. "If you're 18 and single, it's one thing. When you become a husband and a father, it's totally different. But God has called us to perform, and we're just trying to be obedient to Him."
Ellis says there are pros and cons to globetrotting. On the positive side, the guys in Tree63 have had the opportunity to visit much of the United States and Africa, as well as such distant places as Europe and Australia. "We still consider ourselves tourists," he says. "We've also made a lot of wonderful friends around the world."
Standout performances also are considered a boon. "We had an experience in Johannesburg [South Africa] where we felt we should just drop the whole Tree63 persona and just worship God," Ellis explains. "We ended up playing one song for 10-12 minutes, and the Spirit moved. People in the audience were singing out and praising Him in a wonderful way."
But what about the downsides? Some include being away from home, sleeping in strange places and eating the same food much too often. "We get served pizza a lot, and that's OK," he says before adding, "But we also have eaten more than our share of barbecue pork. That's just something we are not fond of."
Ellis says some days the rigors of life on the road make him contemplate giving it all up. "But then we hear that someone's life has been changed by our music, and that makes it all worthwhile. We just want to see how God can continue to use us in this generation to inspire people."

© 2004 CCM Magazine.  All rights reserved.  Used with permission.  Click here to subscribe.
Have something to say about this article? Leave your comment via Facebook below!
advertise with us
Example: "Gen 1:1" "John 3" "Moses" "trust"
Advanced Search
Listen to Your Favorite Pastors