The Shanes: A Tale of Two Texans
Rick Weber, Contributing Writer
Monday, July 21, 2003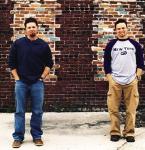 It's the summer of 1999, and Shane Barnard and Shane Everett are walking out of Tom and Jerry's Restaurant, down North 10th Street in McAllen, Texas. They hear what sounds like a gunshot, and they collapse to the sidewalk. When Barnard regains consciousness a short 30 seconds later, he thinks, "I've been shot."

He anxiously searches his body for blood but finds no bullet holes. What he does find between himself and Everett is a 1,000-pound branch of a massive 60-year-old ash tree that had split and fallen and is now occupying four lanes of traffic. Both of them are tangled in electrical wires. An ancillary branch has hit Barnard, ripping his shirt and severely bruising his face and back. Everett has been clipped in the leg. They spend three hours at Rio Grande Regional Hospital and then, amazingly, still lead worship a few hours later at a Mission Discovery gathering.

For them, the reality is sobering: If they had been walking a slightly different path, they would have been hit by the main branch and killed.

For Barnard in particular, this brush with tragedy is the beginning of an encounter with God that drastically changed his life. In the year that followed, his limbs continually went numb, he endured a month-long headache, and his heart mysteriously played stop-and-start games with him.

But all along, Barnard says he could feel God's faithfulness through passages like Psalm 73. He could hear God speaking to him: "There's nothing that doesn't go through My hands, Shane."

Today, Barnard, 26, is sitting in his tour bus, flanked by Everett, 27, his fellow musical troubadour. In a few hours, the duo will take the stage at Cy-Fair Christian Church in Houston's northwest suburbs. Everywhere Barnard and Everett look right now, God is revealing He's taking care of them. Take the tour bus in which they've been cruising for two weeks: a 45-foot Eagle 15 with two TVs, surround sound, VCR, PlayStation 2 and bunk space for 10. Mike and Shannon Clancy, a Chicago couple who have been inspired by the duo's ministry, are financing it.

For months, they were traveling in a Thor "Fun Mover" — a combination motorhome/cargo van. It was certainly functional, with a lift gate in the back that provided easy access for the sound equipment, but it rumbled so fiercely that sleeping, reading or even talking on a cell phone were virtually impossible. And when the "Fun Mover" was home for an average of 20 days out of the month, comfort and privacy was definitely a problem.

"You have to stamp out those 'I-really-deep-down-want-to-be-a-rock-star' feelings," Barnard laughs. "The thing that sustains us the most is knowing it's not about music — it's about the evangelism and proclamation of Jesus. That sustains us because that's about the coolest job one can have. And our fellowship with each other is cool. I think we would prefer to travel less because we desire community and to be plugged in and to know our neighbors. But God has designed us for this."

But none of this was in the plan. Not the guitars. Not the tour bus. Not the recording studios. And definitely not the fan Web site at stripey.net, where people post doctored pictures of the Shanes with mullets and discuss everything from the gift of tongues to IHOP (International House of Prayer).

Everett studied corporate real estate at Texas A&M University in College Station. He also traversed the plains of Texas with a secular cover band called 42. One night after a show in 1997, he sat at the edge of the stage at Sandy's Home Place in Killeen, Texas, near Austin. It was 3 a.m., the rest of the band had left, and he was waiting for the manager to count the cash and give him the band's $100 share.

Have something to say about this article? Leave your comment via Facebook below!
advertise with us
Example: "Gen 1:1" "John 3" "Moses" "trust"
Advanced Search
Listen to Your Favorite Pastors