The Shanes: A Tale of Two Texans
Rick Weber, Contributing Writer
Monday, July 21, 2003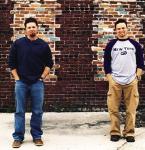 The floor was a collage of crushed plastic cups, beer stains and the wretched excess of five hours of what Everett calls "me-first" living. He started to see a picture of his life that frightened him. Sure, everyone was applauding him for the gorgeous girlfriend, the internship and the fast-track future; but inside, he was dying, and he didn't know why. He had heard the Gospel what seemed like a hundred times, but it had never made any sense — until that moment.

"I felt the Lord saying to me, 'Son, it's time to come home,'" Everett says. "It was like scales dropped off my eyes and suddenly, I could see the truth." Right there on the stage, Everett buried his face in his hands and sobbed. He immediately took steps toward Christ, first by quitting his old band.

Later that year Everett met Barnard at A&M. They ended up singing together — Everett on electric guitar and vocals, Barnard on acoustic guitar and lead vocals. The duo quickly became a favorite at chapel services and small groups on campus.

But Barnard's spiritual path toward becoming a praise & worship leader wasn't smooth either. No one in his family told him about Jesus, even though he grew up in the Catholic church. In his own quest to know more about his faith, he started worshiping with the youth group at Trinity Church in Lubbock. His mother initially did not approve, but it was because of that group that Barnard accepted Christ when he was 15.

In those early days with the youth group, Barnard realized that nobody else had a guitar to lead worship, so he pulled one out of his attic and was dubbed the "basement worship leader." He taught himself how to play the guitar and to this day, he can't read sheet music.

His trademark guitar playing, which manager/soundman Craig Roberson describes as "supernaturally rhythmic," is both melodic and percussive, which almost makes the need for a drummer non-existent.

"I've asked him how to play the guitar, and every time I leave a little bit more confused," Roberson says with a laugh. "He understands it differently than most people. He creates his own chords. It's just been amazing to see the blessings that the Lord has given Him."
The 500-seat sanctuary is packed when Barnard and Everett casually start playing after milling around the stage. Twelve hours earlier, the space shuttle Columbia disintegrated over East Texas. Everyone is searching for the smallest sliver of peace, and Shane & Shane provides it.

They play seven songs from "Psalms," their 2002 Inpop debut, and "Carry Away" (Inpop), their new release. It is music that stirs the soul. Hands are raised; eyes are closed, lips mouthing the words.

Light-hearted bantering with the crowd is interspersed with passionate testimony. Barnard tells the story of his father's recent salvation at the age of 63. Everett introduces "Beauty for Ashes" by saying: "God wants to be our greatest delight. That's what we press toward. That's where light is found. That's where joy is found."

After the Shanes play a few worship favorites, the stage lights are dimmed, and the drums and bass fade out. Barnard and Everett sing "We Exalt Thee" once through, then unobtrusively allow the worshipers to take over the singing. They put down their guitars and walk off the stage, the soft, gentle chorus carrying them away, carrying everyone away.

Used by permission.  CCM Magazine © 2003  Click here to subscribe.

Have something to say about this article? Leave your comment via Facebook below!
advertise with us
Example: "Gen 1:1" "John 3" "Moses" "trust"
Advanced Search
Listen to Your Favorite Pastors