There's Something About Mary Beth
Lisa Tedder, Music Channel Critic
Thursday, February 20, 2003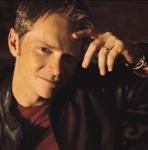 In the beginning of the Chapmans' marriage, most disagreements resulted in fights.  They can laugh about it now.  In fact, they both chuckle at the memory of the hole in the drywall of their first apartment.
"Mary Beth fell asleep right in the middle of my best point," Steven grins defensively.  Although funny in retrospect, at the time he was so angry he punched a hole in the wall.
"I spent a lot of the first few years of marriage," Steven admits, "as did Mary Beth, saying, 'God, OK. You made one mistake.  It's only one.  You brought us together; it wasn't right.  How could this have happened?'"
It's a question many couples have asked themselves, a doubt that has shattered many relationships.  But Steven shrugs it off as if it's not that important.  "What I'm coming to realize," he continues, "is that in those moments when we looked at each other and looked at God and said, 'God, are You absolutely sure You knew what You were doing?'  God was weaving this [relationship] that's so much better than I ever imagined marriage being."
Suddenly I realize that he's close to tears just thinking about it.  "The very broken places in my sweetheart's life," he finishes softly, "have been the places God has used in such a glorious way to say, 'What's really in your heart?'"
Though the Chapmans are certain now that any strength in their marriage has come not only through commitment but also through those very broken places.  It was five years into their marriage when the buildup of various stresses in their lives ignited the onslaught of Mary Beth's struggle with depression—a struggle that lasted for years.
"There have been some pretty dark days," she confesses.  "Days that my sweetie just had to hold me, whether I wanted to be held or not."  She searches for the right words to describe it. "I didn't know how I would survive," she adds.  "I never really thought our marriage would fail.  I just didn't know if I would survive myself."
"I have understood the depth of pain that causes people to consider just checking out," Steven says hesitantly.  "The depth that causes people to say, 'I'm ending this pain.  I can't leave my family, so the only option is to just check out of life.'"  His voice grows firm as he says with certainty, "I can understand that place of desperation and loneliness."
There have been many broken places over the years.  Perhaps the lowest point for Steven was his parents' divorce.  "That was the day the rug was pulled out from under me," he says.  "So much of my model for my wife and me was built on their relationship."
Now, that's the moment when, looking back, he can most clearly see how God was at work.  "It took me to a place of dependence on God that I had never known before," he reflects. "[I thought] 'What can I really trust and really count on?'"
There are now few things left that the Chapmans once thought they could count on.  And yet, after so many difficulties that should have crushed them, they have done more than just survive.  "Through all those things," Steven asserts confidently, "God was showing us, 'You cannot do this on your own.  This is going to be so much harder than you ever imagined.  But it's going to be so much better than you ever imagined because it involves suffering, because it involves death to self.'"
One of the greatest mysteries of the gospel is the joy of being perfected through suffering, and it's a truth the Chapmans are still just beginning to understand.  "It's at those points," Steven leans forward eagerly, "that we have to run to God and say, 'I feel alone in this.  But I trust that You will reveal Yourself and bring relief.'"  Suddenly he smiles and says earnestly, "God has done that. God has proven Himself faithful."
Have something to say about this article? Leave your comment via Facebook below!
advertise with us
Example: "Gen 1:1" "John 3" "Moses" "trust"
Advanced Search
Listen to Your Favorite Pastors