Third Day: Still Together
Rachel Williams, Contributing Writer
Monday, August 04, 2003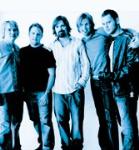 What is it that's so intriguing about Third Day? I consider this as I wait, counting the minutes until the five guys of Christian music's twice-crowned rock 'n' roll royalty emerge from a meeting.

They collectively greet me as I join them at the band's Nashville-based management office to discuss the last decade. Since beginning right out of high school in the early '90s, Third Day has quietly and relentlessly built a fervent following, first among fans and more recently among critics. After finally adding a GRAMMY statue this February for "Come Together" (Essential) to an already impressive collection of other awards, Third Day is taking some time off to reflect on where the road may lead from here.

"We never had any idea that it would go where it has," the group's front man, Mac Powell, recalls of the start of Third Day's 10-year career. "Yet at the same time, in the back of our minds, we knew we had something special. We wanted to be the next Petra — you know, we wanted to be the next big band that really affected a lot of people through music."

"We wanted to be the next Petra then," guitarist Mark Lee, the Atlanta-entrenched band's only Nashville resident, flatly clarifies.

"We've always been motivated to do [music]," bassist Tai Anderson adds. "We weren't there just paying our dues, hoping some day it was going to get better.

"We love talking about the days [when we would] drive a thousand miles to get a $3.17 love offering. When we went on that first tour and played 65 churches, we loved playing in those churches. When we got to play in theaters, we loved playing in theaters. And now, we get to play arenas. Are we hoping for stadiums next? Yes, of course," Anderson admits with a grin.

With the success of last year's tours in support of its gold-selling release "Come Together" and the sold-out "Come Together and Worship" circuit with fellow megastar Michael W. Smith, the band is now reaching an audience of record proportions. Though they're uncomfortable with the label "rock stars" unless sarcasm's involved, each of these five men admits to enjoying some of the benefits their relative fame has afforded them.

"We have to do a lot less than we used to," laughs Anderson. "When you're the new band, you don't have anybody to help you. You're driving all night; you're setting up your T-shirts that you printed yourself. Then you go home, and you've got to put the names on the mailing list. But now we have people who do all this for us! We literally just get to walk onstage, throw our hands on a guitar and play. When we're not doing all the business stuff, we can hang out together a little more because we have this whole team helping with the machinery of it all."

After traveling across the country last year encouraging believers to worship together in unity, the members of Third Day are now finding more time to apply that tenet in their communities back home. The members' wives, children and fellow church members are all seeing a little more of them this spring, due to a lighter touring schedule.

"I think there are struggles with [being gone]," says Anderson. "I don't think any of us wants to put out that 'please-feel-sorry-for-us' vibe because no one is going to feel sorry for a musician! We realize we're blessed. And we realize that the struggles we have with our families are not unique to us. They're with anyone who's married. Your marriage is something that you constantly have to work on and fight for."

Have something to say about this article? Leave your comment via Facebook below!
advertise with us
Example: "Gen 1:1" "John 3" "Moses" "trust"
Advanced Search
Listen to Your Favorite Pastors