Third Day: Where They Are
Chris Well, CCM Magazine
Monday, December 19, 2005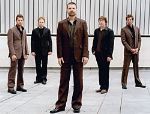 When the men in Third Day were holed up in Atlanta, toiling for six months on their eighth studio album, they weren't trying to make a grand statement – they just wanted to make some good songs. But sometimes God decides to invade the process and take a work places the artist never imagined.
Rarely is there more conspicuous proof than in Third Day's new album, "Wherever You Are" (Essential), Or the album's first single, "Cry Out to Jesus."
Cry for Help
In the days following the disaster of Hurricane Katrina, "Cry Out to Jesus" became a rallying cry – both for people whose lives had been devastated and for witnesses of the disaster's aftermath who sought comfort. And here's the kicker:  It was not even supposed to be released as a single yet. The album was not even finished.
But back in August, when radio promoters heard early clips of the song, they clamored for Essential Records to release it early as an anthem of hope for those displaced by the hurricane. "The label came and asked if we would give this song away," says bass player Tai Anderson. "We were floored. We said, 'Go for it.'"
The label rushed the single out to radio in several formats ranging from an instrumental track to versions with media clips mixed in. It also offered the song free of charge to churches and ministries who wanted to use the song for outreach purposes. "Cry Out to Jesus" soon became the anchor to many relief effort campaigns and at press time had already reached No. 3 on the Christian AC airplay chart.
The band also sprang into action at its very next concert, in Kansas City. "The promoters of the show let us kind of shake things up," Anderson says. "We threw out to the audience in Kansas City, 'We're going to make a donation tonight of $10,000 to World Vision Disaster Relief Fund. You guys reach into your pockets and, instead of buying some cotton candy, throw some money into the KFC buckets in the back of the room.' That night, the audience raised $13,500."
Incredible, but the next night, at a festival in South Dakota, the promoters there also gave Third Day free rein to make a similar pitch. "So we took up an offering," Anderson says. "Again we said, 'As a band we'll get it started. We'll throw in $10,000. You guys match.'" The audience that night raised $28,000.
"We actually went ahead and said that the band's going to do what we can, too. So we matched what our fans did at the shows," Anderson says. "It's really cool. Before we even had time to figure it out, the Third Day community raised $82,000."
Even following that initial whirlwind of giving from Third Day fans, the band continued to do what it could. It was already offering "Cry Out to Jesus" as a free download on thirdday.com. But then the guys decided to go the next step, using the single to raise money for World Vision's Gulf Coast relief fund. "Our whole team worked so quickly to get this to happen," Anderson says. "We felt like we needed to match what the label has done in saying people can have the song for free … so we donated one dollar for every separate individual – up to 50,000 people – who downloaded this song."
A Soundtrack for Our Times
Whereas a single such as "Cry Out to Jesus" would have been timely enough, what is all the more uncanny is that the entirety of "Wherever You Are" is infused with a solid message, delivered in the band's trademark Southern-influenced, American rock style. From the rocker "Tunnel" and the U2-inflected "I Can Feel It" to the worshipful "Communion" and the dramatic "Carry My Cross," every song – each a gem in its own right – connects to a greater whole.
Have something to say about this article? Leave your comment via Facebook below!
advertise with us
Example: "Gen 1:1" "John 3" "Moses" "trust"
Advanced Search
Listen to Your Favorite Pastors