Third Day's New Way: Conspiracy or Calling
Thom Granger, CCM Magazine
Friday, July 02, 2004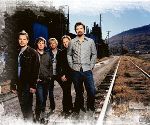 The timeline for this story began April 8, 2004, in Monroe, La., the site of the second show on the spring leg of Third Day's 85-date tour. It's an interesting time to launch a tour, seeing as how the band abstained from major touring in support  of its last release, "Offerings II: All I Have to Give," and how its new one, "Wire" (Provident Label Group), drops in the middle of the first leg of this tour. Conventional wisdom would say it's too early to properly capitalize on the energy of the new album and much too late to support the last one.
But this is a band that does things on its own terms; and, despite the reasons to scratch one's head over strategy, this group of road dogs has climbed on the bus once again to bring its unique blend of Southern rock and passionate worship to its loyal base of fans. This time around the band (along with opening acts Warren Barfield and tobyMac) has provided an option not seen at many ticketed Christian concerts: an open floor or area near the stage sold at general admission, allowing more fervent (and usually younger) fans to stand throughout the show for a closer view, while the more staid can purchase reserved seating around the periphery.
It's an idea inspired by U2's "Elevation" tour, where the inner "heart" provided this opportunity for die-hard fans of the Irish rockers without the high ticket prices normally associated with such close seats. And though it's only show number two, front man Mac Powell seems pleased already.
"Yeah … it felt really good last night, and whether that was due to having the energy from the kids up front or because the tour itself is happening at an interesting time, it was great. This isn't really a record tour per se — although we are debuting some of the songs from "Wire" — but we're really just playing the songs we want to play, without any other big agenda. It's almost like a 'greatest hits' tour, really."
As he will do many times during the course of this interview, bass player Tai Anderson jumps in to continue Powell's thought. It's a symbiotic relationship that Anderson seems to share with all the members of Third Day.
"I feel like this tour is kind of a transition because I think this new album may represent a new era for us. The records that Monroe Jones (Ginny Owens, Chris Rice) produced with us — from "Time" through "Offerings II" — built upon each other musically and thematically and formed both a real, key sound for the band on record and a dialogue with our audience that we had never experienced before. We wanted to put a tour together that shows appreciation for our fans by playing all their favorites and inviting them to come along with us on the next leg of our journey with 'Wire.'"
It may sound silly to some today to speak of a "relationship" between a recording artist or band and the fans who embrace its music. In an era where an artist's most seemingly loyal fans can abandon the object of their most ardent attention at the sight of a new and repugnant haircut, Third Day's fan base has been growing steadily and impressively over its 11-year career. The band has become the most successful touring outfit in Christian music (save Bill Gaither's "Homecoming" tours), seen by a combined audience of more than 750,000 on its last major outing in 2002.
Asked what they think about the fickle nature of today's fans, Anderson is quick and careful not to use music downloaders as a scapegoat … for this problem, anyway.
"I know that downloading is now being blamed for all the problems in the music business, and I don't want to discount the importance of that issue; but I think the larger issue is that there is so much more that competes with music for the attentions of a young audience. Now," he continues, "you have DVDs and video games and the Internet and whatever else people do to entertain themselves. The days of sitting and listening to music are almost a thing of the past."
Have something to say about this article? Leave your comment via Facebook below!
advertise with us
Example: "Gen 1:1" "John 3" "Moses" "trust"
Advanced Search
Listen to Your Favorite Pastors