Third Day's New Way: Conspiracy or Calling
Thom Granger, CCM Magazine
Friday, July 02, 2004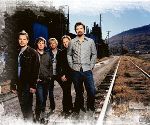 Consider at this point just how much Third Day really has accomplished and how seemingly effortlessly they have done so. Take, for example, the manner in which this band moved into the arena of modern worship. Third Day's approach to all of its music — including worship — still rocks hard enough and well enough to retain street credibility, which has eluded many of the Christian bands that have made similar forays. Anderson offers a possible explanation.
 
"Maybe one way we have been able to do that is because we don't have Christian music 'people' helping us make these records. I mean, we had Paul Ebersold [3 Doors Down, Sister Hazel] producing this time and Brendan O'Brien [Bruce Springsteen, Pearl Jam, Aerosmith], who couldn't mix a track for Christian radio if we paid him twice as much money as we did, mixing the record!"
 
"And we are the same band today as we were when we started out," adds Powell. "We want to reach believers in the church and people outside the church, and we've always felt that way. [The apostle] Paul wrote about being all things to all people, and we always have and always will try to do that.
 
"Our second record, 'Conspiracy No.5,' which was our least-selling album to date, was critically acclaimed; but it was not spoon-fed to our fans. It was deeper lyrically. 'Wire' reminds me a lot of that record in that respect, so it will be interesting to see how our fans react to it."
 
Indeed, it will be interesting to see the reactions to this new album, but there is little doubt it will be accepted well by Third Day fans. Though the lyrics of a few songs may garner the band a wider audience than ever before, the foundational message of the gospel informs the whole of "Wire" as clearly as it does the lives of the men who made its music. And if they do catch any flack from either platform about any of it, they've already communicated the best response I've ever seen in the lyric to "I Will Hold My Head High," stating, "Beat me up and drag me down/ And lock me in or keep me out/ Whatever they may throw at me/ I'll turn into a song for you."
Samaritans & Innkeepers

The spring leg of the "Third Day Live" tour is co-sponsored by World Vision, whose "Hope Child Initiative" targets the more than 14-million children orphaned or affected directly by the HIV/AIDS crisis in Africa and surrounding countries. Just prior to the kickoff of the tour, Third Day members Tai Anderson, Mark Lee and Brad Avery traveled to see some of the work the relief organization was doing there, to "put their body where their mouth is," according to Anderson.

"We've tried very hard not to ask anything of our audience we wouldn't ask of ourselves," he continues. "If we're going to talk about Habitat for Humanity, we had better be out there swinging some hammers. If we're going to tell people about the importance of sponsoring children through an organization like World Vision, we had better be sponsoring children ourselves. If we want our voice — or whatever position we have — to challenge the church, it's up to us to set an example not to retreat from our culture."

"We've been working with World Vision for about eight years but had never taken a trip to see first-hand some of the work they do," says guitarist Lee. "We felt like — going into this new tour, this new season for the band — it was really important to fine-tune the message we were presenting onstage on their behalf.

"In addition, Tai and I went to South Africa two years ago with Habitat, and, while we were down there, we were blown away by the impact the AIDS crisis has had on the whole society. Then, to see the work Bono has done with DATA [Debt, AIDS, Trade, Africa] and World Vision's own involvement with the AIDS pandemic pretty much demands a response. At least it did for me.
Have something to say about this article? Leave your comment via Facebook below!
advertise with us
Example: "Gen 1:1" "John 3" "Moses" "trust"
Advanced Search
Listen to Your Favorite Pastors