Three of a Kind
Merrill Farnsworth, Contributing Writer
Friday, January 09, 2004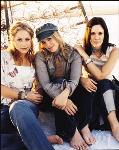 Where it All Began:

A few years ago, artist manager Norman Miller surveyed the Christian music landscape and said to himself, "I see a need for a girls pop group." Shortly thereafter, Miller, creator of the award-winning Avalon, and Lynn Nichols, writer, executive producer and former A&R guy for Sparrow, joined forces to create one.
Miller first approached Alisa Girard, daughter of the legendary Chuck Girard who is known for his radical ministry while a member of LoveSong.  "I'd known Alisa since she was 2 years old and heard some of her demos, which were great," says Miller, "We decided to build the group around her."
After Alisa agreed to join the as-yet-unnamed group, Kristin Swinford was next. She was discovered in a Nashville coffeehouse where she performed with a group that incorporated jazz into its edgy style. "We started with Alisa's sound," says Nichols. "She had a real writing sensibility. Then we heard Kristin sing and play the piano. She had a pure pop voice, and it was a really interesting mix with Alisa's more gritty style. Then we said, 'Let's just see what unfolds.'" The decision to join was more difficult for Kristin, however. "I felt like I was betraying them [her previous group]," Kristin confesses, "but at the same time I felt a pull to ZOEgirl and felt led to meet Alisa." An instant bond formed between the two, and Kristin made her choice.
Then, the search was on for a third girl. Kristin mentioned to Nichols that a friend of hers had "a friend in Atlanta who was playing in a band and working with some musicians" [who later turned out to be Pink, Baby Face and Boyz II Men]. Nichols laughs at his initial reaction. "It sounded kind of flaky, but I told Kristin to give her a call." When Kristin got Chrissy Conway on the phone, it was a case of spontaneous friendship. "I was on the verge of signing a major record deal," says Chrissy. "My lawyer thought I was crazy for wanting to join a Christian group. He told me I'd never make any money." But, according to Chrissy, she's never looked back.
Creating an Image:

In 2000 the three singers signed on to become Sparrow's all-girl singing sensation. However, the new group needed a name. Several possibilities made the list, but "ZOE" (Greek for "life") was the favorite. When a trademark search revealed "ZOE" was unavailable, "girl" was added, and a new group was born.
 
Next phase? Imaging. While Britney Spears was the "it" girl of 2000 with her provocative dress and performance style, ZOEgirl purposefully went in the opposite direction. And while these women say they never felt "misrepresented," the sudden rush to project them as the perfect Christian girl group was a bit overwhelming at times.
"Even though it wasn't what I'd envisioned myself doing," Alisa admits, "there was never a moment I felt I was misrepresenting myself before God. I'd change some of the outfits we wore, though. And I didn't like being called 'prissy pop.' Nobody had ever called me prissy in my life." Kristin comments, "Sometimes we didn't sound that great, and you could hear every breath; but we refused to lip-sync. What kept us going were the mothers and kids being touched. If music critics called us 'disposable pop' and didn't get what we were doing, it was OK. It wasn't for them."
With its name and image secured, it was now Nichols' and producer Tedd T's (Jewel, Faith Hill, Stacie Orrico) task to shape the hit-making ZOEgirl sound. The two were thrilled to discover the singing/dancing performers were also great singer/songwriters. "Each girl was really different, " says Nichols, who describes Alisa as the "Rock Chick," Chrissy the "R&B Woman" and Kristin the "Luscious Pop Voice." "I wanted Tedd to focus the sound because I was afraid it would get scattered." The result of the first collaboration was "ZOEgirl" (2000), a collection of lighthearted pop songs that showcased each girl's talent. The record was a success, garnering a hit single, "I Believe" and selling more than 350,000 albums to date.
Have something to say about this article? Leave your comment via Facebook below!
advertise with us
Example: "Gen 1:1" "John 3" "Moses" "trust"
Advanced Search
Listen to Your Favorite Pastors