Undeniable: Mat Kearney, An Emerging Rock Star
Brian Quincy Newcomb, CCM Magazine
Tuesday, June 26, 2007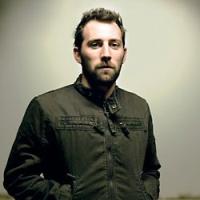 "My parents met in Hawaii. They were these hippies who got engaged two weeks after they met and married six weeks later. During that Jesus movement thing (in the '70s), that's when faith became a real important part of their lives. They went to this really early, emerging church in Eugene, where a lot of those types were showing up. So I grew up in that non-denominational Jesus movement environment, where faith was very much a part of that other world. Eugene was very different than, say, the Bible Belt. It was more holistic . . . I never waded through a theology where you have to separate from the things you like in the world, compartmentalizing my love for rock & roll, and my love for God or my love for women. It was OK to experience the Spirit of God in all of that, which, I think, is how it was supposed to be."
Early on, Kearney and friends flirted with writing, he says, inspired by the usual stuff. "We'd write these things, and then read them to a girl to try and impress her. . . . That's where the writing thing started. We had this whole middle school beat-poet vibe going. Songwriting was a glove that just fit. I was a kid with a 2.0 GPA all through high school, but I had a teacher who sat me down with a poem I had written and said, 'You are a writer.' I had been this weird pot-smoking kid, trying to find my way, and she said, "You are talented; you need to do this. And writing songs fit. I had been writing stuff down for years. I knew how to put words together so that it made sense, but putting it to music really brought it all together for me."
Eventually, as Kearney found himself surrounded by a supportive community of Christian friends, his own faith blossomed. It's something that is present, if subtly so, in his songs.
"This is my broken heart/this is my bleeding start/ . . .This is my way back home/This is the narrow door you know that I will walk through/ . . . This is my renaissance/This is my one response/This is the way I say I love you."
Like the classic tale of "pilgrim's progress," Kearney helped move a friend to Music City, and it opened up new possibilities for his life. He has stayed eight years thus far, although, these days, he says with no small amounts of irony, "I don't live in Nashville; I live on a tour bus.
"I moved to Nashville with four songs," he explains. "By the end of the summer, all these independent labels like Gotee Records, had offered me a deal. tobyMac came into our studio, as did a lot of other music business types who just started showing up. We kept getting offered deals to sign to these labels, but I was like, "I've got four songs; I'm not ready to make a record." I waited, and started working, and took my time.
"I started playing songwriter nights at places like 12th & Porter, where you'd find Nickel Creek, Mindy Smith or Duncan Sheik. I'd get up there, and I was just learning how to play these songs. It was at the same time, humbling and really encouraging. I remember once, Mindy Smith was walking up, and she says, 'That was really cool,' and I was like, 'Well, you're Mindy Smith, and you're really cool.'"
Kearney avoided signing to a Christian label because he wasn't making music primarily for the church. "I paid for Bullet myself and recorded it with the same guy I drove across the country with, Robert Marvin (Matt Redman, tobyMac). We licensed it to InPop.
"Growing up in Oregon, I didn't have this genre experience, this industry specific expectation that if it's this one thing, it's not going to be listened to over there. I didn't grow up with music divided into 'Christian' and 'secular.' Music wasn't as categorized. It was either good, or true, or pure, or it wasn't. There are good and bad things about that, I'm sure, but mostly it's good."
Have something to say about this article? Leave your comment via Facebook below!
advertise with us
Example: "Gen 1:1" "John 3" "Moses" "trust"
Advanced Search
Listen to Your Favorite Pastors