Underoath: Drawing Outside the Lines
Andree Farias, CCM Magazine
Tuesday, October 31, 2006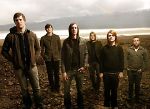 The mosh pit area at Allentown, Pennsylvania's Crocodile Rock Café bears the semblance of organized chaos on this early May evening.
Underoath has taken the stage, and the pit leader, a lanky teenager in atypical emo wear – typical emo wear usually consists of a tiny T-shirt, even tinier jeans and Converses while this dude is wearing shorts and a tank top-style undershirt – guides his followers in an orderly ritual that involves pushing, shoving and the dance.
By statute, you mosh only during the heavy, throat-shredding segments. During the soft moments, you do the dance. Since this is one of those rare instances where Underoath isn't pounding and hammering away on its instruments, the pit leader is doing the dance – a circular, methodical jig that's actually quite … un-hardcore.
The band pummels through "It's Dangerous Business Walking Out Your Front Door," a multi-part anthem that seems custom-made for this methodical alternation between turmoil and daintiness.
All this moshing, crowd-surfing and head banging would be commonplace at your average metalcore event, except this gig is anything but average. Underoath is the headliner; and, when Underoath headlines, it's always more than just music.
"I let people know what we believe in every night," Spencer Chamberlain, Underoath's lead vocalist, says later. "It's not something that's planned out or anything. I just want to be honest with people as much as I can. … We make it a point to let them know what we believe in but also that we're not cooler than the people in the crowd or better than them for believing something that they don't."
It's not exactly an altar call, but Chamberlain does proclaim Jesus' name boldly from stage. And, like the pit leader at the center of the mosh, as soon as the band stops to make its solemn declaration, the crowd stops too, latching on to every word. All cheer.
It's hard to gauge the non-Christian-to-Christian ratio at the show, but, judging from the commotion, the Gentiles almost certainly outnumber the saints. After all, Christians can't mosh.
That's an Underoath show in a nutshell. The sextet is one of the hottest tickets in post-hardcore circles right now and also the latest pride and joy for Tooth & Nail Records, which continues to expand its presence in general market avenues. To date, the band's breakthrough second album for the label's Solid State imprint, "They're Only Chasing Safety," has sold more than 365,000 copies since its release in June 2004 – a staggering figure for a band with no significant radio airplay or constant placement on emocore's poster channels, MTV2 and Fuse.
For such an openly Christian band, Underoath is also an anomaly:  Of all the "Safety" copies sold, a mere trickle – slightly more than 20,000 – has been purchased at Christian retail outlets with the rest being picked up at places such as Best Buy, Circuit City, Wal-Mart or at shows.
How'd they do it?
"Plain and simple, the band is relevant," says Tooth & Nail founder Brandon Ebel. "I think people respect you if you're authentic, and the Underoath guys are authentic in a very unassuming way. You can see this in the way they perform as well as in the way they treat their fans. They're an awesome voice for the gospel."
 
"They have not changed," says Daniel Davison, drummer for label mate Norma Jean and longtime friend of Underoath. "They have remained faithful to God and to their friends. To me, that has a lot to do with their success. When you see them play or hear them speak from stage, you can see that they are genuine people. And you want to be a part of what they are doing. I know that is a big part of why they have done so well. … Every step of the way, they have been content and thankful. Again, the fact that they have remained faithful to God through all of the years, especially in the hard times, speaks volumes on who they are as people."
Have something to say about this article? Leave your comment via Facebook below!
advertise with us
Example: "Gen 1:1" "John 3" "Moses" "trust"
Advanced Search
Listen to Your Favorite Pastors