Underoath: Drawing Outside the Lines
Andree Farias, CCM Magazine
Tuesday, October 31, 2006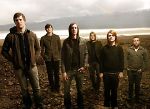 For Underoath – collectively made up of Chamberlain, drummer/vocalist Aaron Gillespie, guitarist Tim McTague, keyboardist Chris Dudley, bassist Grant Brandell and guitarist James Smith – success is a byproduct both of going against the grain and its ability to create real fans out of listeners.
"I think the whole mainstream process of getting a single and working it to radio and blowing a band up isn't real," says McTague, easily the most loquacious of all the Underoath members. "It's conjuring up false bands and false hype in order to sell a product. Even though that does work a lot of times – and the band will go platinum, double platinum, triple platinum, and be the biggest thing one year – they turn around the next year, and nobody cares about them because the people that bought their record truly didn't want to buy their record. They weren't really grasping anything besides the fact that they couldn't escape it on TV; they couldn't escape it on the radio and were, more or less, force-fed it."
He adds, "We didn't sell records by doing radio shows and being on MTV. We sold records by touring and by kids coming out to see us. The kids that come out to see us – the kids that come out to the shows – those are the real kids; those are the real fans. Those are the people you want buying your records."
Still, they don't let the six-figure success of "They're Only Chasing Safety" go to their heads. In a circuit where image and popularity is everything, the Underoath guys try to remain levelheaded about their higher profile. McTague confesses the most "mainstream" thing the band has done is buy a tour bus, and, even so, that was a decision that didn't come so easily.
"We didn't [buy] a bus until we were over 100,000 or 120,000 records [sold]. That was our goal, our rule," he says. "Until we made it to the level where we could afford a bus and not go home broke and starving, we weren't going to have it. We'll tough it out as long as we need. It's all about making smart, grounded, humble decisions with the way you do your business. It's not about looking cool or looking rich or looking big."
Numbers also can be deceiving, which is why Underoath has made it a point not to rest on its laurels and to make the album of its career with "Define the Great Line," which released in June just as the band took the main stage at this summer's "Vans Warped Tour."
From an outsider's point of view, Underoath could easily be lumped with countless other bands in the ever-growing emo/post-hardcore canon – screamo staples such as My Chemical Romance, Senses Fail, A Static Lullaby, From Autumn to Ashes or many of its "Warped Tour" contemporaries. The good news is, "Define the Great Line" is the farthest thing from an emo record. If anything, its 2004 predecessor sounds puny next to it.
McTague calls it the album where Underoath finally became men.
"One [album] sounds like a bunch of teenagers who are still looking to discover themselves," he says. "And [the other] sounds like real dudes who know what they want, [who] are actually executing finally what they've had in their brain and the back of their heads for years but have never been able to express."
He isn't kidding. By comparison, the new album sounds nothing like the previous one. Co-produced by Atlanta-based producer/drummer Matt Goldman and Killswitch Engage guitarist Adam Dutkiewicz, the album is rawer, more complex and more visceral than the relatively tame "Safety." And, like many bands who graduate to the big leagues, Underoath enlisted the help of mixmeister Chris Lord-Alge (P.O.D., Hoobastank), who gives the proceedings a larger-than-life feel that was absent from the band's earlier, thinner output.
Have something to say about this article? Leave your comment via Facebook below!
advertise with us
Example: "Gen 1:1" "John 3" "Moses" "trust"
Advanced Search
Listen to Your Favorite Pastors