Waterdeep Gives Folk-Rock Some Punch In the Middle of It
Andrew Greer

CCMmagazine.com

2010

22 Jul

COMMENTS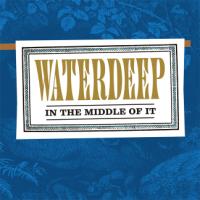 Artist: Waterdeep
Title: In the Middle of It
Label: Hey Ruth, Inc.

One thing Waterdeep's Don and Lori Chaffer have never lacked is creativity. Dousing their latest quirky folk-rock with extra punch, the dynamic duo turns a kaleidoscope of sounds into a shimmering tapestry of musical color. Frequently trading vocal leads gives the long track listing (14 total) perpetual motion, while gutsier vocal styling by both Chaffers helps to distinguish the set list further. The real gems are in the latter half, where acoustic clarity replaces noisy trinkets, reminding listeners why Waterdeep is an underground favorite.

WE LIKE: "Gimme My Walkman"




© 2010 CCMmagazine.com. All rights reserved. Used with permission.

**This review first published on July 22, 2010.



SEE ALSO: Story Behind the Song: "You Are So Good to Me" by Waterdeep