We Will Rock You!
Christa Farris, CCM Magazine
Friday, March 26, 2004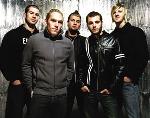 If we conducted a musical time-travel experiment and ventured back to 2002, here's a quick snapshot of what we'd discover about the state of rock & roll.

As boy bands moved the way of the bargain bin, music fans still clamored for the spiritually charged sounds of the likes of Creed and Linkin Park, but they also enthusiastically embraced the garage-rock renderings that launched bands such as The White Stripes and The Strokes into the stratosphere of "cool." During that same year (in July), a group of unknown Oregonians, known simply as Kutless, quietly debuted their influential brand of rock on a self-titled disc.
Avoiding the usual pre-release publicity hype that would've heralded Kutless as the "next big thing," these rockers didn't follow the common cookie-cutter scenario in pursuit of success. Instead of making the huge splash at Gospel Music Week in Nashville a few months before their CD dropped or managing to generate the kind of advance buzz from critics that would pique the curiosity of music fans on release week, Kutless remained relatively under the radar – that is, until the band packed up its gear and hit the road.
It was then – when the band took its aggressive rock anthems like "Your Touch" and teamed up with Audio Adrenaline and MercyMe for the "Go Show," among other influential touring jaunts – that Kutless began to make a mark in front of impressible audiences and rock radio alike. With little fanfare as it traveled coast to coast, the slow build to recognition began and eventually propelled Kutless to becoming the Tooth & Nail family's fastest-selling debut with almost 150,000 units sold. To put this number in perspective, take a quick look at toothandnail.com to see how many bands comprise the label's roster, and you'll find it's difficult not to be impressed by how this new act managed to stand out with so much friendly competition.
While that figure alone would've been enough to highlight an impressive press kit, the band continued to be a Christian music industry success story the rest of the year and beyond. As album sales kept pace with the likes of Michael W. Smith and teen dance act Jump5, the guys continued to be surprised since they never really anticipated such accolades. "We came into all of this really with the intent of doing this the best we could. You never know what could happen with your first record; it's always a big unknown," lead singer Jon-Micah Sumrall says. "We're very pleased that it's done well, and we're super thankful everything has come together. Just the fact that we're able to get into a tour bus after only a year of touring is a miracle!"
And now, almost a year-and-a-half after the release of its debut record, Kutless continues to call the cozy confines of its tour bus "home" most days. But what's particularly exciting news in the Kutless camp are the new songs to incorporate into its repertoire as it recently released a sophomore disc, "Sea of Faces" (Tooth & Nail).
A Music Maker's Methodology
Checking in from his home in Medford, Ore., located just north of the California border on a day he describes as "sunny with just a bit of snow on the ground," Sumrall's afternoon is decidedly low-key compared to most. With a slew of interviews to give and an inbox full of e-mails to answer, it's a relaxing pace he hasn't quite become accustomed to, considering all the big aspirations he's had on his mind lately.
Have something to say about this article? Leave your comment via Facebook below!
advertise with us
Example: "Gen 1:1" "John 3" "Moses" "trust"
Advanced Search
Listen to Your Favorite Pastors