Why Should the Church Have All the Good Music?
Mark Joseph, Author of Rock & Roll Rebellion
Wednesday, May 11, 2005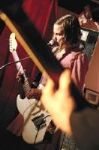 One of the artists hoping to take songs of faith into mainstream rock was the band Love Song, led by popular musician Tommy Coomes. "The minute the members of Love Song were awakened by the truth of the gospel, we knew we had to make an album to tell our generation," Coomes remembered. "We were artists and songwriter – that was our skill and trade. It was natural to continue in but now with new meaning and focus. Maranatha! was an upstart label out of our church and did not have the funds to make the kind of album we envisioned, nor did it have the mechanisms to get it out."
If Calvary Chapel wasn't equipped to help artists such as Coomes and Love Song fulfill their mission, neither were its mainstream counterparts, leaving Coomes and hundreds of other Jesus Music era musicians in a bind.
"There was no contemporary Christian music industry in 1970. The only kind of gospel music we could find was either southern gospel or black gospel," he recalled. "We instinctively knew that we had to find another path. We spent the first two years doing concerts, writing songs and learning more about the Bible. We did showcases for Columbia and Atlantic Records and finally signed a deal with a new label that had funding and distribution with United Artists Records. The mainstream media was hip to spiritual themes and looking for artists who were compelling. The frustrating thing was that they didn't know how to promote the music. It was too close to the culture for religious radio and too gospel for regular radio."
In the words of the late Mark Heard, one of Christian music's prophetic voices: "We were too saved for the sinners, and the saved didn't want us around."
The Butlers Did It
Parable, an early Jesus music favorite led by a talented musician named Chuck Butler, released its debut album in 1977 on Maranatha! Music with dreams of affecting rock fans with its faith. But the label, like most other fledgling Christian record companies, was simply not equipped to take the artists on its roster out into the mainstream music world. Functionally, it was music by the church made for the church. Butler's dreams of reaching out into the world of rock with his music on the same level as the Eagles or Led Zeppelin died as his band faded from the scene.
Or did they?
Nearly three decades later another Butler, Chuck's son Chad, better known as the drummer of a dynamic rock band named Switchfoot, hit the top 5 of both the alternative and pop radio airplay charts with a song called "Meant to Live." As the group approached rock star status, Chad's band mate bassist Tim Foreman offered perhaps the most succinct quote of the last 30 years to clearly represent believers who intentionally create music for the world at large:  "We are Christian by faith, not genre," he first noted in a 2003 interview with Rolling Stone.
Of course, during the last three decades, others have attempted to say the same thing, but the words never rolled off the tongues of these artists as smoothly as they did Foreman's. Take, for example, B.J. Thomas' tortured attempts to say he was an entertainer who happened to be a Christian and not a Christian entertainer, Creed's denials that it was a "Christian band," even though it filled its songs with tributes to the only Deity who had ever claimed that His yoke was easy and His burden light, U2's endless attempts to explain what they didn't believe instead of what they did believe and Evanescence's plea to be removed from Christian-owned bookstores. Artist after artist awkwardly – and often embarrassingly – struggled in their attempts to be in the world but not of it.
There is little disagreement that for years, mainstream music was not very hospitable to musicians who wanted to sing about religious or spiritual ideas that were orthodox in nature. But by the turn of the century, in the aftermath of numerous artists such as Stryper, King's X and Jars of Clay chipping away at the wall that seemed to keep God's more outspoken followers out of rock music, the wall seemed to be slowly coming down. There was Michael W. Smith's "Place in This World," Kathy Troccoli's "Everything Changes," Newsong's "The Christmas Shoes," Bob Carlisle's "Butterfly Kisses," P.O.D.'s "Alive" and, of course, the song that many credit with finally knocking the wall down, MercyMe's "I Can Only Imagine."
Have something to say about this article? Leave your comment via Facebook below!
advertise with us
Example: "Gen 1:1" "John 3" "Moses" "trust"
Advanced Search
Listen to Your Favorite Pastors