Why Should the Church Have All the Good Music?
Mark Joseph, Author of Rock & Roll Rebellion
Wednesday, May 11, 2005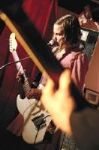 That "I Can Only Imagine" tipped the scale is a historical event riddled with irony. Not only are the song's lyrics so unmistakably "Christian," but the band wasn't even pondering the mainstream market when it was recorded.
"We never saw it coming!" emphasized lead singer Bart Millard, whose band is now enjoying its third major pop radio hit. "All logic says that a song like 'Imagine' should have never seen the light of day on mainstream radio. Having one song played on mainstream blew our minds, but to have 'Here with Me' and now 'Homesick' played as well, we simply cannot explain. We hope that more artists who wear their faith on their sleeves are given this same opportunity. God opened a door that we never thought to knock on."
"Imagine" and other songs showed the dream was indeed possible, and by the time Switchfoot prepared 2003's "The Beautiful Letdown," the mainstream music business was open, as never before, to a band with a clear spiritual vision who knew how to express it with care to a waiting and watching world. Driven by two major radio hits – the second being "Dare You to Move" – "The Beautiful Letdown" took less than two years to surpass the 2 million sold mark.
Stacking the Deck
Mainstream gatekeepers weren't the only ones who delayed the recent emergence of Christians in the world of rock. For decades, believers had all too often circulated stories among themselves about how difficult – indeed how impossible – it was to make an impact in the cultural mainstream.
"Certain spiritual concepts can't cross over," one influential Christian rock pioneer had said. "Talk about God, talk about love – no problem. Talk about Jesus, his death, sin. … Those concepts are very offensive. The cross is still a stumbling block. The mainstream rejects music that is straightforwardly Christian."
The problem with this attitude was that such declarations assumed a static situation and didn't take into account the "X" factor – that as more and more Christians got involved in the mainstream culture at every level, such moves would pave a path for themes which would have once been anathema. Such warnings also had the effect of frightening away those who sought mainstream impact and became a sort of self-fulfilling prophecy. As more young Christians came to believe such statements, they were discouraged from entering occupations where their influence could be felt – radio programmers, deejays, music critics, music executives – and where they could actually play a role in ensuring that such themes made it to the mainstream.
Rapturing Lambs
During the 1970s many Christian denominations, including the principal movements that helped establish contemporary Christian music, were convinced that Christ's return would take place within a matter of months at any given time. Naturally, the notion of the imminent return of Jesus Christ to rapture His church didn't exactly create an environment in which young Christians were encouraged to go into culture-shaping careers: broadcasting, journalism, the music business or other vocations where their impact would be felt not within months, but decades.
In addition to a rapture theology which frowned on higher education and careers that would require planning and foresight, this popular movement of the 1970s all too often encouraged a separatism from the world. This did not result in masses of believers entering mainstream venues from which to affect the larger culture. Thus, when rock stars converted to Christianity, they were often encouraged to leave their careers at mainstream record companies and record for Christian labels.
Have something to say about this article? Leave your comment via Facebook below!
advertise with us
Example: "Gen 1:1" "John 3" "Moses" "trust"
Advanced Search
Listen to Your Favorite Pastors