Why Should the Church Have All the Good Music?
Mark Joseph, Author of Rock & Roll Rebellion
Wednesday, May 11, 2005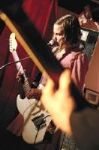 "We had just left Egypt, and we didn't want to go back," remembered Mike Macintosh, one of Maranatha!'s executives. "A prime example of this was when Leon Patillo, the lead singer of Santana, left the group and began recording solo albums for the label."
The Turning
The theology of separation that profoundly manifested itself during contemporary Christian music's foundational years has been modified by the current crop of artists who appear to reject the notion that physical separation from the world leads to holiness. Rather, a theology of spiritual separation while being physically integrated has taken hold, which has allowed artists such as Jars of Clay to tour with mainstream artists, Steven Curtis Chapman to appear on "The Howard Stern Show" or P.O.D. to regularly take up residence on MTV.
Another factor that cannot be overlooked is a greater openness to Christian ideas on the part of many mainstream media gatekeepers. Part of this is the result of Christians themselves joining mainstream institutions where they have affected change.
Michael W. Smith's top five smash hit song "Place in This World," for instance, came about because a young Christian named Claire Parr (nee West) happened to be working at radio promotions at Geffen Records and insisted on working the single to pop radio on her off hours. Other Christians have gone to work at MTV, VH1, Entertainment Weekly, Billboard, The Chicago Tribune and dozens of other mainstream institutions and have created more accessibility for these artists through their mere presence there.
Key philosophical changes are also taking place in the Christian marketplace. The Gospel Music Association, for instance, made an important change in the group's mission statement. What had traditionally been a declaration that affirmed the group's goal as advancing gospel music, the GMA enlarged to say that the group's goal was now to advance the Gospel in every genre of music – a significant shift that reflected the growing desire of many artists to be identified as Christians who worked in jazz, pop, rock or R&B, instead of "Christian music artists."
The Christian music industry, meanwhile, has helped to galvanize and organize a group of artists and fans who may not otherwise have found each other and enabled dozens of artists to hone their craft and prepare to be salt and light in the culture at large.
"Some good things have happened along the way," noted Love Song's Coomes. "Michael Omartian, Seawind, Amy Grant, Michael W. Smith, Steve Taylor, Steven Curtis Chapman, Steve Green, Dann Huff and Tommy Sims paved a path. Many more opportunities are available today because of artists who've followed their hearts. I rejoice at the success of MercyMe, Kirk Franklin, Mary Mary, Switchfoot and Jars of Clay. They're courageous and confident and have made great records that have connected with millions of listeners. Those who are culturally relevant may always be suspect to some folks, but who did Jesus hang out with?"
Brave New World
The movement of Christians into the cultural mainstream has been slow and steady, with fitful starts and stops; but with a multi-pronged approach, it is attaining significant ground. Between Christians who made their way into mainstream music (Jason Wade of Lifehouse, Scott Stapp of Creed, P.O.D.), artists who have converted to Christianity after achieving fame (Alice Cooper, Dave Mustaine, Lauryn Hill), to those who got their start in the Christian market and made their way across the cultural divide (Switchfoot, Chevelle, Relient K, MercyMe, Skillet, Sixpence None The Richer), the American mainstream music scene is today home to hundreds of artists who are writing and performing songs with a distinctly Christian worldview.
Have something to say about this article? Leave your comment via Facebook below!
advertise with us
Example: "Gen 1:1" "John 3" "Moses" "trust"
Advanced Search
Listen to Your Favorite Pastors