Wit, Faith and Piano Pop Come Together on "Hello"
Andy Argyrakis

CCM Magazine

2005

6 Sep

COMMENTS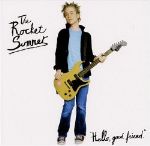 Artist:  The Rocket Summer
Title:  "Hello, Good Friend'
Label:  The Militia Group
The Rocket Summer may have found mainstream acceptance through tours with Something Corporate, Ash and Copeland, but that doesn't mean wunderkind Bryce Avary squelches his spiritual foundation.
Instead the 22-year-old singer/multi-instrumentalist combines worldly wit with mature faith assessments across jovial piano pop akin to a younger, higher-pitched Ben Folds.
Cuts such as "Around the Clock" and "I'm Doing Everything (For You)" radiate with summertime sparks, while a more meditative glow permeates "Treasures" and "Destiny." Avary gives a snippet testimony of his salvation on the jubilant "I Was So Alone" and pays tribute to his new bride on "Christmas Present," demonstrating depth well beyond his years.

© 2005 CCM Magazine.  All rights reserved.  Used with permission.  Click here to subscribe.