Women in Christian Music: This One's for the Girls
Gregory Rumburg, CCM Magazine
Tuesday, November 21, 2006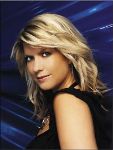 Speaking to the state of female artistry in Christian music, Nordeman reflects, "I have been obsessed recently with Sara Groves' 'Add to the Beauty' album. It feels very much to me like an example of what the strong but broken heart of a woman can offer in a culture where we seem mostly to be giving credibility – and airplay – to 'God is Great! God is Great! Praise His Name! He Reigns! He Rules!' etc. Sara's songs don't deny any of God's goodness. To the contrary, instead of heaping on the superlatives, she just starts peeling layers away ... one song at a time ... until I'm sitting at the red light weeping because I, too, want to add to the beauty, or build the kingdom one chunk of stone and messy bit of mortar at a time, or love someone who is impossible, just because it's right to."
Continuing in this vein, Nordeman adds, "This is what women bring to the table of Christian music. Or should. This is what motivates me now. First, that we look for the redemptive work of Christ's love – always and in everything and everyone – and that we write and sing about that. Second, that we make a pact with ourselves not to perpetuate the mis-marketing of God – singing and saying empty and theologically shaky things because that might be easier and people might buy more records. And, thirdly, that the music we offer to the world and to the church is not just for the sake of stirring everyone up emotionally, but that it calls us to action – whether that action is serving anonymously in our community or taking a public stand against sex trafficking like Natalie [Grant] or exposing the suffering in Rwanda like Sara [Groves]. Once our music points to the redemption of the love of Christ on a broken planet, it has to ask, 'What now?' Otherwise, we've brought nothing."
Taking a public stand has literally defined the career of Rebecca St. James. Late last year her "If I Had One Chance to Tell You Something" (Forefront) signaled a newfound sense of freedom, joy and energy for doing what the Grammy-winning artist does better than anyone – rallying the Christian church to be and do its best.
"Rock Bec is back!" remarks St. James, and fans are loving it. During a recent visit to the White House, even President Bush appeared pleased with her efforts. St. James – who also moonlights as an author, speaker and co-founder of the SHE events for girls – has spent the first part of 2006 feeding her ever-broadening worldview. She says, "We've had some really, really amazing ministry opportunities so far this year, starting out in Kenya and Rwanda earlier this year – my first trip to Africa. It's really been a blessing."
Singer/songwriter Sara Groves continues to enjoy a remarkable season herself. While she's been a popular favorite since her first hit single, "The Word," entrenched itself on Christian radio in 2001, many of her most avid fans are fellow artists. In addition to Grant and Nordeman – who have already cited Groves' influence – Jars of Clay, Bethany Dillon, Point of Grace and many others are quick to champion her artistry – especially her latest album, "Add to the Beauty" (INO). Groves' critically acclaimed 2005 release sounded a clarion call to the church, urging it to become increasingly active in God's justice work around the world.
"Long before the album ever came out, I felt like 'Add to the Beauty' was my clear declaration of faith," Groves says. "So, to have other people reinforce that is obviously a great feeling."
Have something to say about this article? Leave your comment via Facebook below!
advertise with us
Example: "Gen 1:1" "John 3" "Moses" "trust"
Advanced Search
Listen to Your Favorite Pastors