Women in Christian Music: This One's for the Girls
Gregory Rumburg, CCM Magazine
Tuesday, November 21, 2006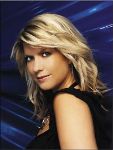 "It's not like you're going to wake up one day, and God is going to go, 'Here's your calling,' if you've not even picked up a guitar. No, it's the little things first."
She continues, "God is going to start gradually; so if we don't obey Him in the little things, He can't take us to where He wants to take us." Her trio illustrates this point. "The three of us joined our church worship band because that was one of the things God was putting on our hearts. We didn't know why. We thought it was just for fun. But, now as I think about it, God used that. If we hadn't been obedient in that, I don't think we would be where we are today."
Author and Women of Faith core speaker Luci Swindoll agrees. "God made us to be us. And it's such a joy to be around people who never try to be something they're not," she says via email. "Vulnerability is the key to finding who you are. When we throw up barriers or defend or protect or deny, it circumnavigates what God is trying to get at: the real you. It blocks His work. But, when those barriers are dropped and we let go of all those trappings, the world opens. People listen. They even buy our albums, and they feel different for having listened to what God is saying through us."
The Road Ahead
We would be remiss not to acknowledge that popular preferences tend to ebb and flow. Like economic markets that correct themselves, like theological experimentation finally recorded by scholars as fad, Christian music's popular pendulum will likely swing back the other way, favoring, again, pop and singer/songwriter acts regardless of gender. Not all bands introduced this year will find commercial legs – in fact, based on record sales, very few of 2006's new bands have been well received so far. And many that don't connect over the next year will be unceremoniously pruned from label rosters. To feed interest (and industry distribution systems), a new crop of potential stars, including women, will begin to rise. But is it good enough to rely merely on natural forces to balance the scales again?
In Christian music, women have long made tremendous strides, kicking at the darkness to bring light to the world. First, it was Evie, Annie Herring of Second Chapter of Acts and the Boone sisters. Then it was Shirley Caesar, Sandi Patty, Twila Paris and Amy Grant. Add CeCe Winans, Yolanda Adams, Margaret Becker, Susan Ashton, Cindy Morgan, Jennifer Knapp – and, of course, the women we celebrate today – and it's clear from the nascent Jesus Music days to the present era, female artistry makes a pervasive difference in the genre.
So, as new female acts develop their artistry to fill the shoes of those performing before them, are they being set up for success? How do we tell rising acts such as Ayiesha Woods, Krystal Meyers, Sarah Kelly, Vicky Beeching, Jessie Daniels, Ana Laura and others: "Thanks for your work today, but we've only got room for you tomorrow"?
"It's true. There are a lot of bands blazing a trail today; but we definitely have our place," Mary Mary's Erica Campbell says. On our journey to know God better, Christian music is at its best when diverse cultural, theological and experiential points of view are available, each one drawing us closer to the Creator of human diversity.
But, maybe, change can best start when that young girl's hairbrush is finally exchanged for a microphone. Or a keyboard. Or a guitar.
"I wish more girls would rise up and grab hold of their calling and what they feel they are supposed to do," says Rebecca Barlow. "God has so many different aspects. God gives each person in their life one aspect that they are to share with their generation. If you just had guy musicians, there would only be that aspect. But God gives each person a different place to be a mirror of who God is. As women, we need to start speaking out more about what God has given us on our hearts, just as the guys are already doing."


© 2006 CCM Magazine.  All rights reserved.  Used with permission.   Click here to subscribe.





Have something to say about this article? Leave your comment via Facebook below!
advertise with us
Example: "Gen 1:1" "John 3" "Moses" "trust"
Advanced Search
Listen to Your Favorite Pastors