Space Warriors Grounded in Talking Points, Strong Performances
Shawn McEvoy, Managing Editor, Crosswalk.com
Wednesday, May 29, 2013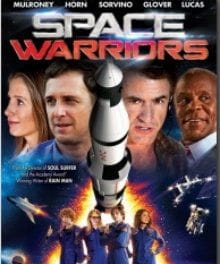 Release Date: Premieres May 31, 2013 on Hallmark Channel (8 p.m. ET/PT, 7 p.m. CT)
Rating: NR
Genre: Family/Drama
Run Time: 93 minutes
Director: Sean McNamara
Cast: Josh Lucas, Mira Sorvino, Dermot Mulroney, Danny Glover, Thomas Horn, Ryan Simpkins, Grayson Russell, Booboo Stewart
The American Spirit has fallen on hard times. Perhaps not so coincidentally, ditto the public perception of NASA. Oh, they're still there, still doing good things even in a post-Space Shuttle age (cf. the International Space Station), but there are questions now. Is space still relevant? Does it inspire us? Has pride in our past achievements been reduced to nostalgic nods and sarcastic quoting of Lloyd Christmas's "No way... we landed on the Moon!" from Dumb and Dumber? Is the lack of a space race leading to our shortage of engineers and mathematicians?
These are some of the questions the new film from Walden Family Theater, Space Warriors, would ask of the older portion of its intended audience (parents and grandparents). Those old enough to remember 1986's Space Camp and Apollo 13 (either the 1995 film or the actual event from 1970) will find intended parallels here.
Enter the teen heroes of Space Warriors, led earnestly by Jimmy Hawkins (Thomas Horn, the enigmatic young man from Extremely Loud & Incredibly Close). Jimmy is the son of a former Space Station astronaut and the rare young man these days who dreams of going into orbit. He's a genius who knows his stuff, and who has won a prized entry to Space Camp in Huntsville, Alabama (conveniently enough, his home town) on the strength of an essay he wrote. There's just one problem: Jimmy's mom, Sally (Academy Award winner Mira Sorvino), has lost relatives - and quite possibly a marriage - to the space program, and she believes in Jimmy enough to recognize that he just might win the Space Camp competition and the prize that comes with it: a trip into space. So, she forbids him to go, and asks her ex-husband (Dermot Mulroney, About Schmidt) to back up her decision and not make her into "the bad guy." Dad agrees.
This brings us to the film's biggest Catch-22 ethically and morally. Obviously, Jimmy ends up at Space Camp. How? He deceives both parents into thinking he's with the other (apparently also forging permission forms?). And he is not the only one on his team of six studly teens from around the world (a pilot, a mechanic, a robotics expert, a rocket genius, and a computer programmer extraordinaire) who has lied to gain admission. Cheating is another topic that comes up, and while the cheater is exposed, that character's own punishment (other than missing out on an eventual trip into space) was apparently left on the editing room floor. To an extent, the film leaves it to viewers to decide and discuss whether the lessons and punishments for lying are dealt with appropriately and extensively enough in the end.
For if Jimmy Hawkins had not lied his way into Space Camp, well, believe it or not lives would have been lost. So did the end justify the means? Is Jimmy correct when he tells his mom, "Sometimes when you believe in something so strongly...," or is Sally correct when she answers, essentially, that all we have is our word and our actions to define us? Or is it Jimmy's dad, who seems to suggest all is fair so long as a teenager is willing to accept responsibility for his or her actions?
Have something to say about this article? Leave your comment via Facebook below!
advertise with us
Example: "Gen 1:1" "John 3" "Moses" "trust"
Advanced Search
Listen to Your Favorite Pastors